Off The Record
Melissa McCarthy Is Constantly Being Blasted For Her Weight – But Her Husband's Response To The Haters Is Perfect
Melissa McCarthy is a fantastic actor, but it is hardly the most interesting thing about her.
The stunning McCarthy has starred in, written for, and produced a number of successful Hollywood films.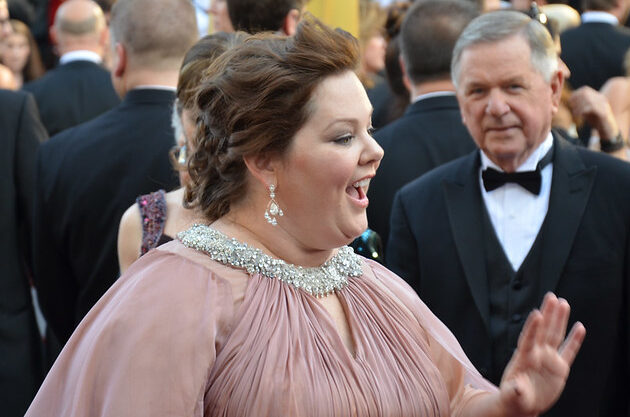 She and her doting actor husband Ben Falcone have been married since 2005, making them one of the cutest and funniest couples in Hollywood.
Falcone, 49, regularly profusely compliments McCarthy on how lovely she is.
In 2021, Falcone uploaded a photo of the two on his Instagram with the caption, "This was taken at a friend's wedding, maybe 14 years ago. We had a good time. It was a fun wedding, but also Melissa makes everything fun–just by being herself. I'm such a lucky fella to be married to someone so smart, kind, beautiful and crazy funny. Happy birthday Mooch, love you!" Being truly in love, unapologetic with the physique of the person we love is the best response to all the naysayers, especially in Hollywood.
They co-starred in Bridesmaids (2011) and have since produced films like Tammy (2014), The Boss (2016), Happytime Murders (2018), and Life of the Party (2018) under their firm, On the Day Productions (2018). Recently, the pair acted in Falcone's apocalyptic comedy God's Favorite Idiot (2022), which was streamed on Netflix.
McCarthy is well-known for her appearances in shows like The Gilmore Girls (2000-2007) and Mike and Molly (2010-2016), which helped her rise to the fourth spot on Forbes' list of highest-paid actresses in 2023. She has appeared in several films, including the Oscar-nominated Can You Ever Forgive Me?, in which she plays a struggling writer who forges letters from famous authors who have passed away. And in 2023, McCarthy will show off her singing voice as the evil sea witch Ursula in Disney's live-action adaptation of The Little Mermaid.
McCarthy, now 52, has added two more prestigious lists to her resume: in 2016, Time named her one of the 100 most influential people in the world, and in 2020, The New York Times rated her the 22nd greatest actor of the 21st century.
McCarthy and Falcone's antics make them a refreshingly appealing take on the Hollywood power couple stereotype. In 2019, the couple donned matching Adidas tracksuits paired with sneakers to the Vanity Fair Oscars after-party. "I'm sure it threw everybody into a tizzy because the idea came to me the day before the Oscars," a choice McCarthy claimed got mixed feedback.
Joking about her fashion choices, she told Entertainment Tonight, "It's not (less glamorous) to me guys, I've doubled my diamonds–I feel great."
One thing many might not know is that McCarthy is the cousin of Jenny McCarthy, an actress, model and TV personality. Jenny defended McCarthy in 2013 after film reviewer Rex Reed called her cousin a "tractor-sized Melissa McCarthy" and a "gimmick comedian who has devoted her short career to being obese and obnoxious with equal success" in a review of Identity Thief.
Jenny told E! News, "That's obnoxious in itself. For anyone to attack like that, it's just wrong and hurtful, and it doesn't do anyone any good…" She added, "She's very very talented and people know that, so… He can go to hell."
McCarthy is confident in her acting abilities and rejects criticisms of her fluctuating weight with grace.
McCarthy and Falcone co-wrote and co-directed The Boss, and in 2016, McCarthy discussed her weight loss for the part with Refinery29. "I have, but I'll be back again. I'll be up, I'll be down, probably for the rest of my life. The thing is, if that is the most interesting thing about me, I need to go have a lavender farm in Minnesota and give this up."
She continued, "There has to be something more. There are so many more intriguing things about women than their butt or their this or their that. It can't be the first question every time, or a question at all… Can you imagine them asking some of these guys I work with, 'How do you keep your butt looking so good?'"
And about stereotypes, she said, "I want to get rid of constantly categorizing. Lists give somebody a way to shove and tear down women. Those women that are always shown, that we're all supposed to be like, is like .000009% of human beings. That's crazy."
McCarthy, who has had her own fashion challenges, created Melissa McCarthy Seven7 to showcase her stunning outfits and help others overcome their own. Her collection, which included sizes four through 28, has apparently ceased production, although her ferocious designs are still available on consignment and vintage websites.
Falcone continues to shower McCarthy, the mother of their two children, with mushy praise despite the naysayers. Included in one of the captions of his Instagram photos, he said, "I told her, 'I love you every day. But today I love you most of all.' And it was true."
Melissa has stated in interviews that her weight will continue to change. Yet, I disagree that that should be the "most intriguing" thing about her or anyone else.
"There has to be something more. There are so many more intriguing things about women than their butt or their this or their that," she says.
I couldn't agree more, she's totally right!
Please SHARE this article with Family and Friends!