Uncategorized
Al Roker, Who Was Hospitalized With Blood Clots, Was Serenaded By The Today Show Cast And Crew
On Monday, Al Roker got the surprise of his life when he opened his door to find his TODAY family and a large group of carolers waiting for him.
After being hospitalized in mid-November with blood clots in his legs and lungs, the much-loved weatherman made his first television appearance via Zoom just hours before the emotional reunion.
Wednesday morning's TODAY broadcast featured the heartfelt serenade.
The TODAY family brought holiday cheer to Al Roker's door with an emotional surprise❤️

We love you @alroker! https://t.co/WqlQ3JZp7v pic.twitter.com/90EMWi38hF

— TODAY (@TODAYshow) December 14, 2022
The 68-year-absence old's from the morning show was quickly noted by viewers.
Taking to Instagram on November 18, Roker explained his absence: "with a blood clot in my leg which sent some clots into my lungs."
"I am so fortunate to be getting terrific medical care and on the way to recovery after some medical whack-a-mole."
The Macy's Thanksgiving Day Parade is a particularly poignant event without his presence. After 27 years, this was the first parade he had ever missed.
It was still a special day for Roker, though, because he got out of the hospital in time to see part of the parade and eat Thanksgiving dinner with his family.
The length of his visit home was cut short. After the holiday, Roker went back to the hospital where he'd been spending the previous weeks.
Because of his second hospitalization, he was unable to fulfill his hosting duties at Rockefeller Center's annual Christmas Tree Lighting.
He has only just recently moved back in with his family.
"Listen, it's been a tough slog. I'm not going to deny this," he said Monday during a video appearance on TODAY. "It's been the hardest one yet, and you know I've had my share of surgeries. It gives you a profound sense of gratitude for this outpouring of prayers and thanks. I'm a very fortunate person."
Roker addressed his ill appearance and stated that he had no plans to return to his weatherman duties at this time.
"You lose a certain amount of muscle mass for every week you're in the hospital, and I was in the hospital for four weeks," he continued. "It's just a certain amount of weakness. I'm doing physical therapy every day, occupational therapy. I've got to just get my strength back."
Even though he was sick, he insisted: "I feel good, I feel strong, and every day I feel a little bit better."
Fans from all over the country have been sending him prayers and well wishes, but his TODAY family decided to cheer him up by singing "Jingle Bells" and "I'll Be Home for Christmas" in their own unique ways.
Emotional Al Roker was serenaded by Hoda Kotb, Savannah Guthrie, Dylan Dreyer (who has been filling in for Roker), Sheinelle Jones, Craig Melvin, Jenna Bush Hager, and dozens of other TODAY staff members in front of his New York City home.
"It was one of the most heartwarming moments I think (for) all of us," Guthrie said of the moment. "Everybody was in tears, and it was just beautiful and so wonderful to see him."
"It's impressive you did that without a prompter," Roker joked. Then he got serious and expressed gratitude for everyone's patience and understanding over the preceding few weeks.
"I've missed you all so, so very much, all these faces," he said. "It just means the world to me and to our family and my Deborah, who's just been my rock. I thank you so much. I really appreciated it."
He recently posted some photos from his kitchen in which he displayed his culinary prowess, much to the dismay of his daughter Leila.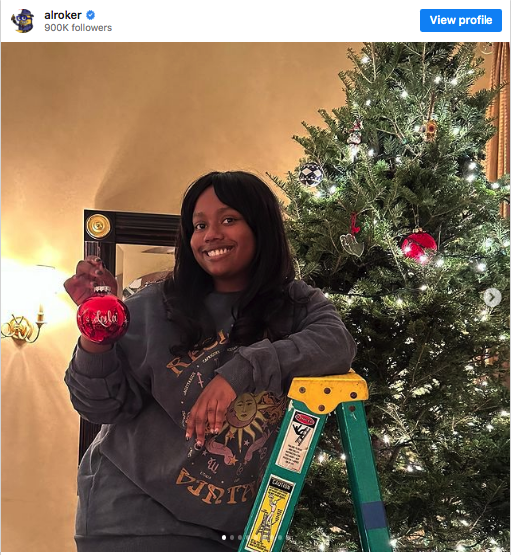 Al also shared photos of his family and him decorating a Christmas tree.
It's great to hear that Al will be spending Christmas with his loved ones at home, and we certainly hope he doesn't have to make another hospital visit anytime soon.
Our hearts are broken without you, Al. Everyone is rooting for you and is looking forward to your return on the small screen.
Send Al Roker your thoughts and prayers by SHARING this update with your Friends and Family!