Uncategorized
Victoria's Secret Introduces First Model With Down's Syndrome
The world famous beauty brand Victorias Secret introduced Sofia Jirau, the first model with down syndrome. She is from Puerto Rico and it was a dream come true to work for the brand.
Victoria Secret engaged her in the new collection "The Love Cloud."
The brand published a post with Sofia's picture along the caption:
By age 25, Puerto Rican model, Sofia Jirau, has already conquered her ultimate dream: to model on the most important runways in the world. In 2019, Sofia launched the online store, Alavett, selling clothing, accessories, and home products. What did it mean to her to be featured in The Love Cloud Campaign? "It is a dream come true. I am happy to be able to show everyone that Sofia Jirau is going to shine around the world. I feel confident because fear is not in my vocabulary."
See the post here:
Sofia looks very natural in the picture, dressed in a bra from the brands latest collection along a necklace featuring her name.
25-year-old Sofia is so happy for this lifetime achievement: "One day I dreamed it, I worked on it and today, it is a dream come true. I can finally tell you my big secret – I am the first Victoria's Secret model with Down syndrome," she wrote on one of her posts.
"Thanks to all of you for always supporting me in my projects! Thanks to @victoriassecret for seeing me as a #NoLimits model and making me part of the Love Cloud Collection inclusion campaign. This is just the beginning, now it's formed," she added.
People were really impressed with this move by Victoria Secret. They took the comment section by storm. "That is the real inclusion," a user wrote. "This honestly is the most beautiful amazing thing the Victoria's Secret has ever done!" wrote another user.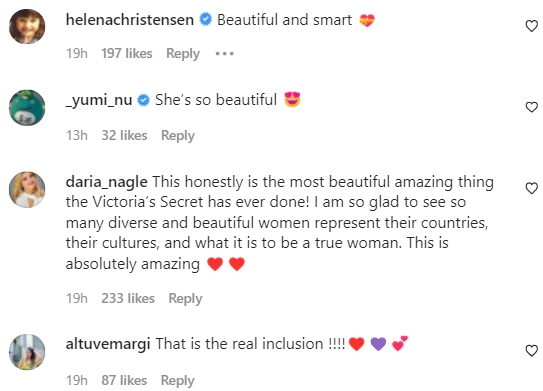 Sofia Jirau also walked the ramp at the New York Fashion Week in 2020.
We wish her all the best in the life of modelling, and special thanks to Victoria Secret for giving her this amazing opportunity!
Please SHARE this amazing news with your Family and Friends on Facebook!