Off The Record
Everyone Knows She Just Passed Away, But Here's What They Don't Say About Tina Turner
Following the meteoric rise to fame in a troubled musical duo, Turner went on to establish herself as a major player in 1980s pop music and a global celebrity with hes solo career.
Tina Turner, a superstar of rock and roll, died at the age of 83 after a protracted illness. However, not everyone knows what she went through…
Her health has deteriorated over the past few years, what with a 2016 diagnosis of intestinal cancer and a 2017 kidney transplant.
She has come a long way in the last six decades, winning many awards along the way, including a Grammy.
Her profession was highly successful, but the emotional and physical stress of her daily existence eventually caught up with her.
She had a stroke, cancer, and kidney failure. Following a cancer diagnosis, she also underwent colon surgery.
"I know that my medical adventure is far from over," Turner once wrote. "But I'm still here — we're still here, closer than we ever imagined. I can look back and understand why my karma was the way it was."
She continued: "Good came out of bad. Joy came out of pain. And I have never been so completely happy as I am today."
Turner affirmed and highlighted the contribution of Black women to the evolution of rock 'n' roll, and her high-kicking, energetic live performances were influential enough that Mick Jagger admitted they influenced his own.
After 20 years of working with her violent husband Ike Turner, she went solo and became one of the most important pop singers of the 1980s with the release of her album Private Dancer.
There will be multiple accounts of her life documented, including three autobiographies, a biopic, a jukebox musical, and the critically acclaimed documentary Tina.
"Tina Turner, the 'Queen of Rock'n Roll' has died peacefully today at the age of 83 after a long illness in her home in Kusnacht near Zurich, Switzerland. With her, the world loses a music legend and a role model," said a statement provided by a representative on Wednesday night.
"Turner's musical character has always been a charged combination of mystery as well as light, melancholy mixed with a ferocious vitality that often flirted with danger," scholar Daphne A Brooks wrote for the Guardian in 2018.
On November 26, 1939, Turner was born Anna Mae Bullock in Nutbush, Tennessee. She spent her childhood helping her family farm cotton.
She utilized her voice to talk (or sing) her way into Ike's band in St. Louis when she was a teenager thanks to her experience singing in the church choir of her little town.
The first time she begged to join the band, he said no, but after hearing her sing lead on BB King's "You Know I Love You" with the Kings of Rhythm, he changed his mind.
Ike gave her the stage name Tina Turner when she showed promise as a singer and copyrighted it in case she ever left him.
Turner received a taste of his erratic behavior when she sought to quit the group early on, and he reacted aggressively by striking her with a wooden shoe stretcher.
"My relationship with Ike was doomed the day he figured out I was going to be his moneymaker," Turner wrote in her 2018 biography My Love Story. "He needed to control me, economically and psychologically, so I could never leave him."
Her first recording was the moderately successful Ike and Tina Turner single "A Fool in Love," released in July 1960.
Live performances, however, are what truly catapulted them to stardom.
Ike and Tina Turner were so successful that he performed for desegregated crowds while touring with the Ike and Tina Turner Revue on the Chitlin' Circuit.
Live! After signing with Warner Bros.' Loma Records label in 1964, they recorded their first charting album, The Ike & Tina Turner Show.
Their 1966 collaboration with Phil Spector resulted in the single "River Deep – Mountain High," and they toured the United Kingdom and the United States with the Rolling Stones. Other notable visitors at their Las Vegas residency included David Bowie, Sly Stone, Cher, Elvis Presley, and Elton John.
Turner left Ike, who was aggressive and unfaithful during their marriage, and the couple's popularity as a Grammy-winning, top-charting pair in the '70s came to an end.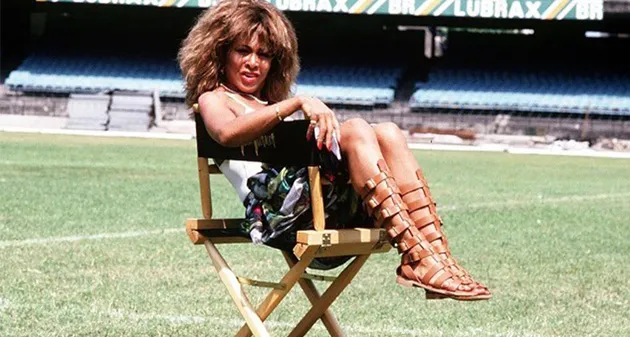 She played Acid Queen (the title of her second solo album) in the 1975 film adaptation of the Who's rock opera Tommy, which also contained her final song with the band, Baby, Get It On.
The couple divorced in 1978, and Turner was awarded two cars and the right to use her stage name in the settlement. In the documentary Tina claimed, "Ike fought a little bit because he knew what I would do with it,"
When we consider the good and the terrible times, the happiness she brought to so many, we can't help but be grateful to her for everything she did and the resilience she showed in the face of adversity.
She was raised by her parents, witnessed the death of her son, and struggled with her health.
Tina, who has been famous for decades because to songs like "Simply The Best," has finally said goodbye to her admirers.
In an interview with Rolling Stone, Tina said, "We were well-to-do farmers – that's as close as I can get to explaining it. To me, it seemed as if we lived well."
"My sister and I had our own room. Each season we'd get new clothes, and I was always fresh and neat, especially compared to a lot of other people around me.
"We were never hungry. Of course, we knew the difference between our family and, say, the daughters of schoolteachers – those people were educated. My parents weren't, per se, but they had a lot of common sense and spoke well. We weren't low-class people. In fact, my parents were church people; my father was a deacon in the church."
"My parents weren't mine, and I wasn't theirs, really, so when they left, it was as if they had always been gone as far as I was concerned," she says.
"If you ask my sister, Alline, you might get different answers because she might have been affected by it differently. Actually, I've never asked her what she thought about them leaving – isn't that incredible?
She never anticipated a career in music that would bring her this much attention. As a little girl, she was only aware of her desire to sing and dance.
"She fought this sickness for such a long time and she was so strong as you think she would be, but I know towards the end, she told me once, she said, 'I'm really ready. I just don't want to put up with this anymore,'" Cher, the famous singer said of her friend.
Cher claims that Turner "was really happy" despite the circumstances. She spoke of her initial visit to Switzerland to see her new friend.
Now Trending:
"She said, 'I can't spend too much time,' and then five hours later we were laughing like crazy and she wanted to get up and show everything she bought in the house," the singer said. "… She was having a good time in spite of the fact that she was really sick and not wanting people to know about it."
What a tragic turn of events. Tina Turner was the voice of a generation and broke barriers for women in music, especially black women. Peace be with her eternally!
Please SHARE this touching news with your Friends and Family!