Off The Record
Teacher Sent Letters To All Her Students After A Parent Told Her This During A Conference
Teachers are the unsung heroes of our society. Often, we take their efforts as granted. We overlook just how important they are to our society and the crucial part they play in teaching our children. They leave an impact deeper than we can gauge. One such teacher set an example and reminded us just how powerful words of a teacher can be!
One of her students had been on an extended absence and the mother of that student came to the school for a parent-teacher meeting. By the end of the conversation, both had tears rolling down their cheeks.
What could the conversation possibly be about? The teacher reported having cried for the first time during a parents/teacher conference. Why? Here's what she posted about it:
The mother of the student told her teacher that she tried committed suicide and was in the act of doing so when the police barged in after receiving a safe 2 Tell report. This teacher has been teaching the daughter, the student who tried committing suicide, for two years. This girl was now in the hospital and it is why she has been absent for so long. She not only deactivated her social media accounts but also wrote her goodbye letters. It seemed like she was all ready to depart this world, so young, so capable and so loved. Imagine the horror of knowing that one of your students almost lost their life – and the even horrifying revelation for her parents.
Why would a teacher care about one of the students when she has so many others to worry about? Well, it might sound cliche but teachers never forget their students! The news about one of her dear students trying to commit suicide made her realize just how pressurizing the education system was. It shook her so bad that she cried for the first time during such a meeting. It made her realize the power of her own words. She decided to write a letter to her student in the hospital. From what she had to say in her post, it is quite evident that her words had an immense impact on the student.
Go back to the remark she made to her mother after reading the letter: "How could somebody say such nice things about me? I didn't think anybody would miss me if I was gone." Do you understand the gravity of the feelings she felt, the feelings which compelled her to try to take her own life? It's just sad how students as young as her feel unworthy. Nobody should feel like it and the teacher understood this need. She made sense of how name calling and bullying can leave lasting effects on the students and how we ignore listening to our child speak about their concerns.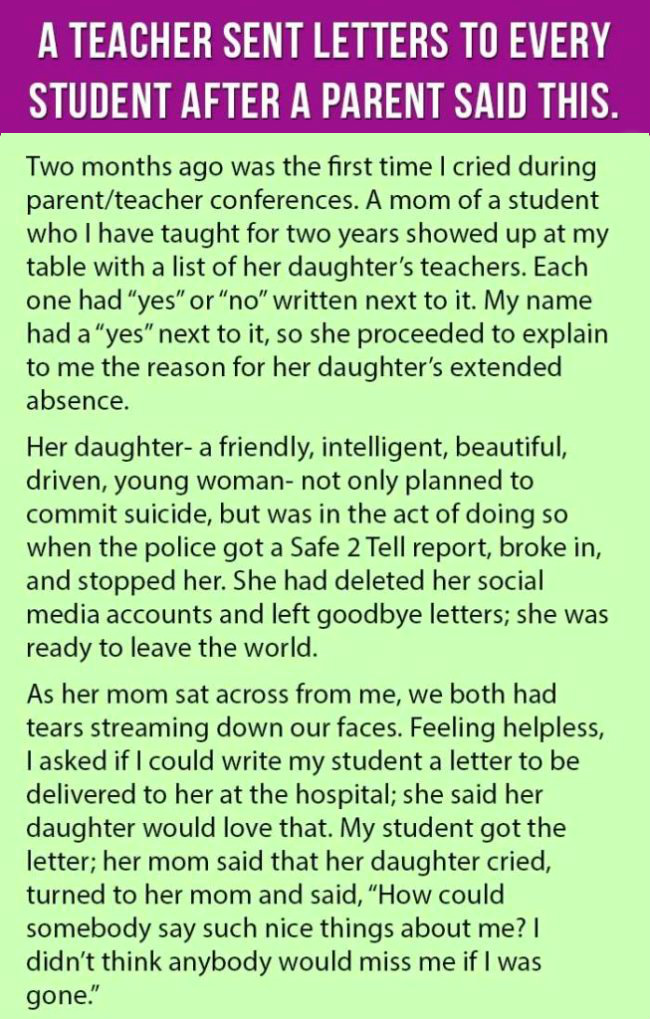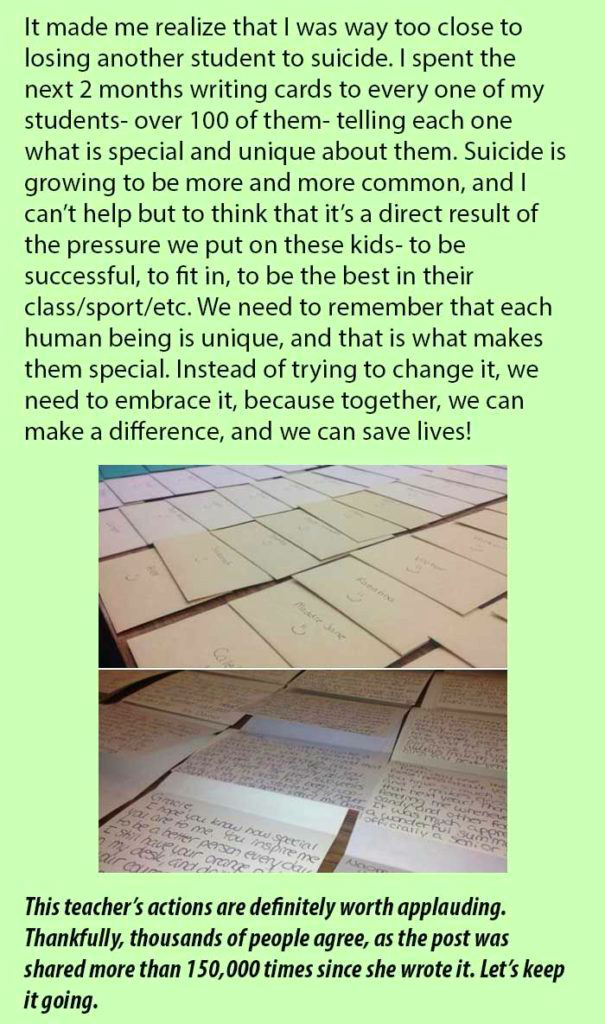 Must read: These Kids Diagnosed With Learning Disabilities Have An Important Message For Everyone
These news made her realize something else as well: it occurred to her that another of her students might be on the verge of committing suicide and possibly due to the same reasons. She thought why someone should end their lives for something they aren't even responsible for. The teacher then wrote letters to all her students – almost 100 of them – telling them just how unique they all were. She made them believe their worth and that they matter. She told them what most of us fail to tell our children.
We live in a world where everything's a race. If you are not among the top, you are a failure. There is a constant pressure and many of us merely succumb to it – at times so much so that it ends up consuming us. It is particularly true for the school going children, who are growing up and constantly facing the world. They need support – support of their peers, parents and teachers. This gesture by the teacher is definitely not a small one. It changed the lives of numerous students. These children are vulnerable. If fellow students name-call them or bully them, it can leave wounds which might not heal for a very long time. They need constant reassurance or we might lose them to suicide. Remember the power of kindness. Remind your child, your friend, your sibling that they are important. They matter. They make the world a better place.