Off The Record
Keanu Reeves Put His Whole Career On Hold — The Reason Why Will Make You Cry
I don't know if you are aware, but there are severe accusations against Keanu Reeves lately. I am afraid it will rise to be a disaster of the decade. Many actresses accuse Keanu Reeves of having extremely appropriate behaviour. I knew something was up with this guy..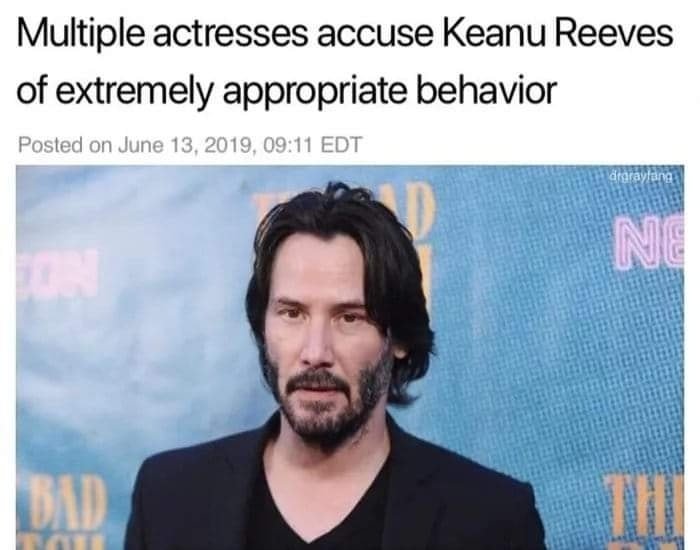 All jokes aside, there's a lot of love worldwide for Keanu Reeves. For years, stories about his 'extremely tragic life' have gone viral again and again.
He is an iconic actor best know for his role in John Wick, but my personal favorite role is definitely Neo in Matrix, but not the new one. (sorry Keanu!)
Money follows attention and that's what happened with Keanu. He has a net worth of around $360 million. We see many rich people being total jerks and disconnecting from humanity as they rise to a position of power, just like almost every politician, but that's not what happened with Keanu.
Keanu Reeves has a different strategy. Instead of taking credit and boasting his name on all the news media outlets, Reeves runs a private foundation that has aided, in his words, "a couple of children's hospitals and cancer research."
"I don't like to attach my name to it; I just let the foundation do what it does," he says.
Reeves has also donated precious time of life to help with other charity events worldwide, going as far as to personally man a phone line during the 2008 Stand Up to Cancer telethon and acting as a goalkeeper during a charity ice hockey match for Spinal Cord Opportunities for Rehabilitation.
Some people who worked with Keanu say that he is the most gentle and kind person they ever met. One user took to Reddit to express an experience working with this lovely actor.
The reddit user u/bo2ee2 writes:
Back in the late 90's and fresh out of college I got my first job as an assistant prop designer on the set of Chain Reaction (Keanu was a supporting actor with Morgan Freeman). Every day for the last few weeks of filming, Keanu treated the stage hands and 'grunt workers' (including myself) by taking us out for free breakfast and lunch. He was genuinely a very nice guy to work with. That was one example (that involved me directly), but (on the same set), I remember him going out of his way to give my friend a ride to the repair shop to pick up his car.
Since then, I've worked on about 30 different sets and have never met an actor as generous and friendly as him. Most actors I've seen and worked with are total [expletive] who always think they are better than us. Keanu on the other hand, at the very least, was socially approachable and definitely kindhearted.
It's very sad to remind ourselves of his extremely saddening tragedies. From his daughter Ava being stillborn and thereafter the death of his girlfriend Jennifer Syme in a car accident to the loss of his sister to cancer and good friend River Phoenix to a drug overdose.
Keanu doesn't look to the past to find happiness.
"Happiness often belongs to our past and what we constantly try to do is recapture that feeling and bring it back to the present, rediscover it, and feel like we're in that moment again," he says.
"The search for peace or finding happiness is this constant desire on our part and I think many people are looking for that and hoping to find it."
"We're comforted by the fact that we know that feeling from the past and sometimes we can only be truly happy by looking back. That's where nostalgia comes into play."
Read after: 12 Real Life Confessions Prove That Keanu Reeves Is The Nicest Guy In Hollywood
The actor had very difficult relationship with his father who abandoned him. Later he witnessed the death of his only child, his lover, and his sister's battle with leukemia, but with his help, the last one didn't result in tragic loss.
Keanu put everything on hold at the peak of his career. In 1991, his sister Kim was diagnosed with leukemia. He was scheduled to featured in the sequel of the best movie of all time "The Matrix," but put everything on hold to take care for his sister.
The famous actor even sold his home and moved in closer to her to provide care like preparing meals, cleaning her house, and giving necessary medications.
It took about 10 years for Kim to recover, and Keanu still puts her on the front line for whatever she might need in the future. His explanation for what he did was simple:
"She was always there for me, you know. I will always be here for her."
In this twisted world, we rarely see family doing what family does for each other, but despite having so much difficulties and tragedies, Keanu seems like he's a man send from God to aid humanity!
Who knows how many more secret donations he's doing and helping people we'll probably never hear about, but we just want to say that we are so happy to have a human being like Keanu.
Please SHARE this amazing article with your Family and Friends!