Off The Record
5 Year Old Hero Survived Attack By Two Dogs – Now Cruel People Call Him By This Name
A nightmare for every parent happened 7 years ago to Brittany, when a lovely 21 months old baby boy was attacked viciously by two Rottweilers. Ryder who was a baby back then miraculously survived the petrifying attack, but not without permanent damage to his face. Despite fighting hard battle six years later, some people still call him names I cannot even write for such a heroic kid. His mom now speaks out to make people aware they shouldn't be a**holes.
Boy Severely Disfigured In Dog Attack
A great day for most people turned out to be a nightmare Thanksgiving day for Brittany, the mom, and her son Ryder. That day two 100 pound Rottweilers attacked the boy viciously, leaving him with severe damage to his right cheek, the bottom of his eyelid, and three-quarters of his lip. The dogs broke all his teeth, his arm and punctured his lung. The family and doctors almost lost hope that the boy would survive, but miraculously he did, but left him with permanent disfigure on his face, among many bodily injuries. (1)
"It happened so quickly. We were visiting friends and they had a dog lap about the size of the dogs," said mom Brittany. "We were eating breakfast and Ryder was back and forth to his toys and back for bacon then he disappeared. I looked out of the window and he was face down in the garden. He had pyjamas on and they'd been completely ripped off so he just had a sleeve on. When we picked him up and rolled him, his face was just gone."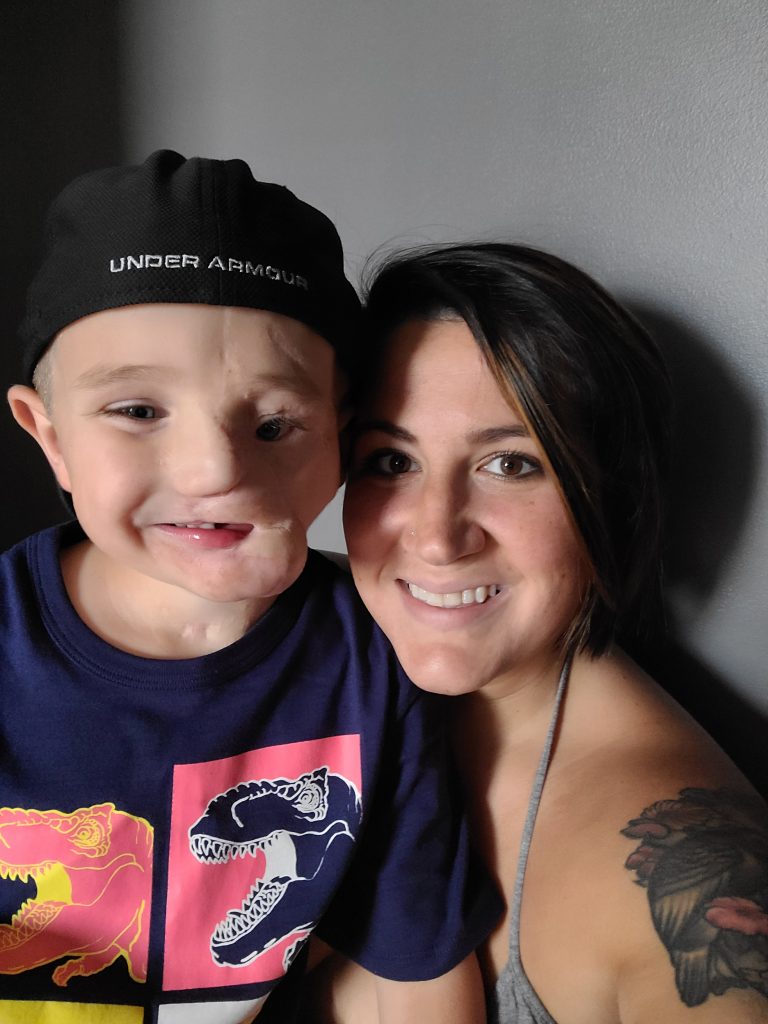 The dogs were almost instantly taken and put down the same day. Brittany had no idea why the dreadful attack happened on her baby because Ryder had been around the dogs before and everything seemed fine. The doctors almost lost hope that Ryder would fall down on his injuries and if he did, he might be paralysed due to the depth of the bite into his skull.
Since that terrible Thanksgiving back in 2015, Ryder has spent ver 70 hours doing surgeries. Doctors did their best to reconstruct his face, fix his broken bones and torn body parts, and there are still things to be done when he fully matures. Despite all of these efforts, Ryder still does not have what one might consider a "normal" face. (2)
Mean Comments From Strangers
Not all heroes wear capes. The baby hero has been through a real life nightmare. Doctors told Brittany that he might not be able to drink and eat, but the young champ Ryder surpassed every expectation. Despite being through hell and back, his mom says that strangers has been incredibly cruel to the young boy. People walking down the street make nasty comments. Some children on the playground yell and call him a "monster!" before running away from him.
"In the beginning it was horrible because even adults would stare. For the first year, he had no face on one side because he had two unsuccessful skin grafts," she explained. "When we go to the park, there's a child who points and screams 'monster' at him before running away. Out shopping the other day someone shouted 'ew' at him."
A Life Forever Changed
The young champ can use our help!
Ryder also has a great group of friends who support him and treat him just like anyone should. The people in their town know him and really help him to boost his confidence. Still, he will never be able to look like everyone else.

To help pay for his surgeries and care, both past, present, and future, his family set up a GoFundMe page for him. The page is still active and you can help support this little boy, his family, and his future. Currently, they are still trying to raise money for his upcoming plastic surgeries. If you have anything to spare, every small donation helps.
It would be of huge help if you can share this post and spread awareness about bullying and his campaign!