Off The Record
Sending Prayers To Jay Leno and His Family in this Difficult Time
This past week, famed comedian Jay Leno was hospitalized after being injured in a motorbike accident.
His kneecaps and ribs were broken, and he also fractured his collarbone. Nonetheless, he is recovering well and has already returned to work after the accident.
A few months prior to this, he had suffered second-degree burns in a house fire in Los Angeles.
After the accident, Jay gave an interview in which he said he "was knocked off my motorcycle" on January 17th.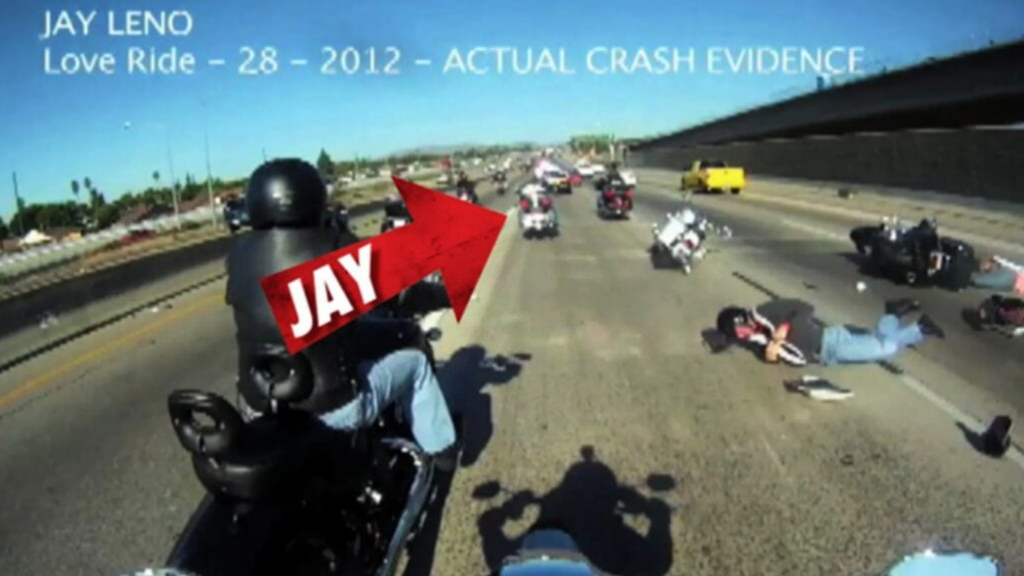 Jay has been motivated to make a full recovery despite suffering serious injuries.
He has kept a positive outlook and has already returned to work despite the seriousness of his current condition. Fans of Jay can be assured that their hero is on the road to recovery.
Jay says he was riding his 1940 Indian motorcycle around exploring when he caught the scent of gasoline and decided to take a different route.
"As a result, I directed the bike down a backstreet and crossed an adjacent parking lot," he told the Las Vegas Review-Journal.
"Someone had unknowingly strung a wire across the parking lot without a flag or any other visible warning signs."
As Jay continued riding into the wire, he lurched out of his seat and into the pavement, suffering serious injuries.
He complained to bystanders that the invisible line had prevented him from recognizing the danger until it was too late to take any action, and he had abandoned his motorcycle to roll away.
Jay's garage caught fire in Los Angeles, California, in the month of November 2022. After the fire and explosion, he was taken to the hospital for treatment of critical facial injuries.
In a statement released at the time, he acknowledged that he had sustained serious burns and that his recovery would take some time.
An email was issued to individuals who had planned to see Jay in Las Vegas to inform them of his cancellation due to illness.
Road to recovery: Jay Leno has a 'new ear' after his latest motorcycle accident? You heard that right
Jay Leno has discussed his recent surgeries and injuries again.
The veteran late-night TV presenter reflected on his recovery from a recent motorbike accident on the latest episode of Dana Carvey and David Spade's "Fly on the Wall" podcast, released on Wednesday.
He told the hosts of the podcast, "This is a whole new face."
In an interview with the Las Vegas Review-Journal published in January, Leno confessed that he "got knocked off my motorcycle" and fractured his collarbone, as well as two ribs.
His "two fractured kneecaps" are another issue.
He was riding his motorcycle in a parking lot when he was "clotheslined," an incident that left him with more than just fractured bones, as he explained to Spade and Carvey.
"[The wire] cut my face again so I called my face guy. I go, 'Listen. You know that face you gave me?'" Leno recalled. "'I gotta get it fixed.'"
In November, a garage fire left Leno with severe burns on his face, chest, and hands, leading to the accident. He had to be hospitalized and undergo a number of operations, some of which were reconstructive.
"This is a brand new ear," he said in the podcast. "When you get burned in a fire, ears are like paper. It just goes up."
After seeing Leno's new face, Spade said, "You look good."
As he's been back on his feet, Leno's been drawing humor from his past mishaps and operations.
He outed himself to the paparazzi on November 27 as "the Elephant Man" at Hermosa Beach's Comedy & Magic Club. He joked about his wounds as well.
"We got two shows tonight: regular and extra crispy," he said.
He made an appearance on "The Kelly Clarkson Show" in February, when he continued to make injury jokes.
"Only for the second time in my career am I the new face of comedy," he told the singer. "I got it once in the '80s and now I get it."
Please SHARE this post and send prayers to Jay Leno and his family!