Off The Record
Elderly Man Kicked Out Of Bank Of America, Then Cop Takes Action
We've all been witnesses of young employees being rude to the elderly without patience and nerves. Sometimes they are going too far, but we have to understand that one day we will be in that spot. We could all use a little compassion.
This case was one of those. A 92-year-old man went in his local Bank of America to make a withdrawal, but when the employee saw that his ID was expired, they told him they couldn't process his request or do anything about it. He got really upset and the employee had to call the police to remove him from the bank. When an officer showed up, no one could suspect what was about to happened next.
The officer melt the hearts of many people who saw what he did for this old man who was just trying to make a withdrawal… with an expired ID.
Officer Robert Josett received a call to remove a nagging 92-year-old man from the bank who was making a scene and was trying to withdraw money from his account with an expired ID.
Without eligible ID, we all know we cannot be identified and make a withdrawal, even if the funds sitting in the bank are really ours. The old man didn't understand why the teller was refusing to help him and got really upset that made him cause a scene.
When Officer Josett arrived in the bank and saw what was happening, he did something unconventional. The Officer decided to escort the man out of the bank, but what he did next made him go viral for all the right reasons.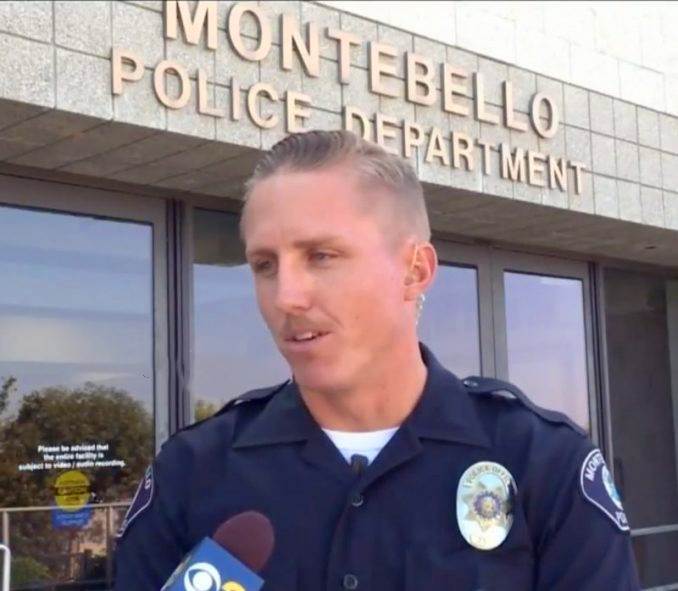 Instead of just kicking out the old man, Officer Josett escorted the old man outside, drove him to get a new ID. But his kind heart didn't just stop there. The cop took the old man to the bank again to get his withdrawal as originally intended.
Then, the Montebello Police Department posted a photo of Josett and the elderly man on Facebook, and hooked the eyes of many people.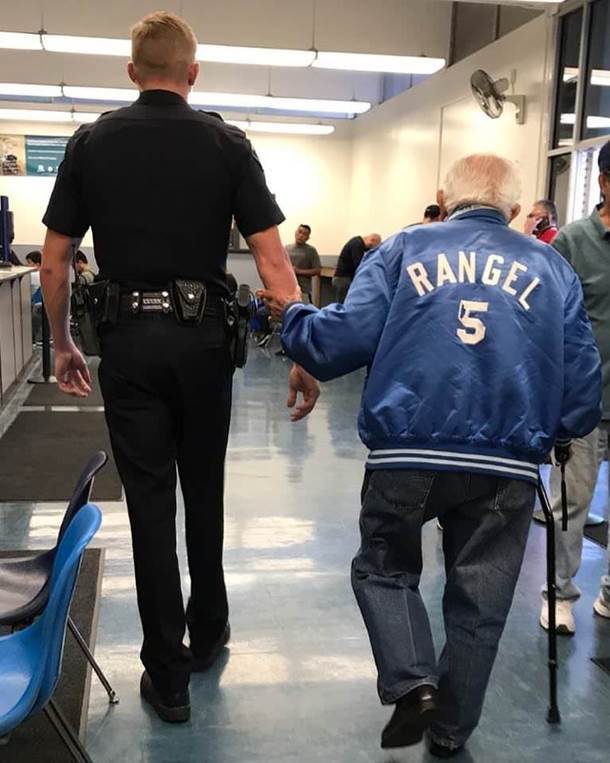 "This Officer is a Saint!" commented one guy on the police department's Facebook post. "All this Little Grampa wants is to keep his independence. And the officer helped him in a dignified manner. Good Job Officer!"
"Heart touching and I love that the officer was able to get him in and out of the DMV so quickly!" joked another. "That alone is medal worthy!"
Someone else said: "This is beautiful,"We need more stories like this to show the people that not all police officers are bad and that they go above and behind their regular duties to help everyone."
Another one added: "We often hear only bad news of officers, we can't judge everyone the same," agreed another. "Officer Robert Josett thank you so much for helping this elderly man, it could have been my father or grandfather. God Bless you….and thank you for your service."
With a little compassion and kindness we could all live in a better world. People who have no compassion need it most because they will be in the same exact situation in another point in time… and when they do they see how much they need it.
It's a privilege to get old these days. And once we do, we are not as sharp as we used to be. Having no ID on 92-years-old it's not as simple to take out an ID as it is when you're 30 or 40.
The people of Montebello, California, are certainly lucky to have such a compassionate officer protecting them and we need more people like Officer Robert Josett.
If you like this post don't forget to SHARE it!