Uncategorized
Dying 9-Year-Old Boy Had Just One Wish And It Will Make You Cry
Just when everything looks like it's falling apart, we stumble upon a real-life story that gives us chills and restores our faith in humanity.
Nine-year-old British hero Bailey Cooper had one wish and made it his mission to complete it, despite having insurmountable pain. The wish was simple: he wanted to meet his unborn sister.
Bailey's mom, 28-year-old Rachel Cooper, told her 9-year-old son that he is going to have a little sister. When she was born, he couldn't let go of her. It was love at first sight. He named his sister Millie which means "gentle strength."
When she turned 1 month, he took the role of an "older brother" seriously, and he loved her deeply. He spent as much time as he could, given his heartbreaking condition.
Bailey's Diagnosis and Series of Remissions
The young hero became ill in 2016. The doctors diagnosed him with Non-Hodgkin's lymphoma, a form of cancer that originates from the lymphatic system.
We can only imagine how hard it was for the mother to hear the terrifying words from the doctors when they told her.
When cancer starts, white blood cells begin to multiply with lightning speed. They can then spread into the organs and cause tumors, which we all know can result in…
Unfortunately, the young hero's cancer was discovered in stage three, and it's not an early stage to discover cancer.
He underwent chemotherapy for several months and finally went into remission in February 2017. They were instructed to bring the kid for check-ups every three months, given his previous condition.
If you like this post, feel free to SHARE it!
Months later, they were given the dreadful news:
"We were in Paignton zoo when we had a phone call from the hospital that he had relapsed and they needed him back in. Bailey showed signs that he was breathless and tired," Rachel said.
The doctors had to give him chemo again, and were positive that Bailey would fight it off again and go into remission, but the tumors had already done severe damage to the organs.
"He had a stem cell transplant. We had to try everything we could," said 30-year-old Lee Cooper, Bailey's father.
Bailey went into remission again in July, but the aggressive cancer re-surfaced in August. Bailey's internal organs had endured extensive stress and damage.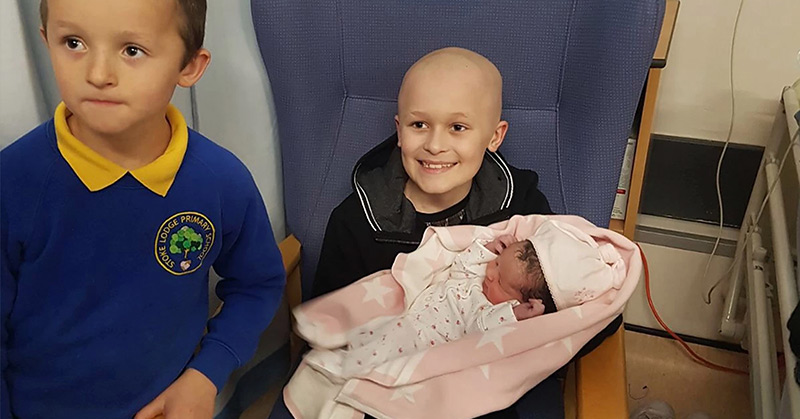 Bailey's Last Days
Given my personal experience with my mother, there is a time when you just don't believe it will happen, but in time you can see that the person simply cannot hold onto it much longer, as the body starts to deteriorate from the inside.
This young boy didn't have too much left in him, as he was already in enormous pain.
"You're only allowed to cry for twenty minutes," he told his parents, and he requested that everyone wear superhuman outfits at his funeral.
"By 11:45 am on Christmas Eve, we were by his bedside. We knew it was not going to be long. We told him, 'It's time to go, Bailey. 'Stop.' The moment we said 'stop', he took his last breath and had just the one tear come out of his eye, it was peaceful," said Lee.
Bailey spent his last minutes clutching Millie, the reason he held on for so long. Hundreds of people turned up on January 6th to pay their final respects to Bailey Cooper.
Now Trending:
Bailey's football icon and friend, Tom Lockyer showed up as well to lay him to rest.
He was truly an inspiration to everyone, starting with his family.
May his gentle soul continue to rest in eternal peace.
If you like this post, please SHARE it with Friends and Family!