Off The Record
Angelina Jolie's 'Zombie Lookalike' Revealed As She Leaves Jail After Fooling Everyone
Young Iranian actress Sahar Tabar, whose given name is Fatemeh Khishvand, is a popular figure in the Middle East.
She gained notoriety after she underwent extensive plastic surgery in an effort to resemble Angelina Jolie.
The drastic changes Tabar underwent, including liposuction and rhinoplasty, have been the subject of much discussion and criticism on the internet.
She was dubbed "Iran's Zombie Angelina Jolie" after she was convicted of a crime and sentenced to ten years in prison.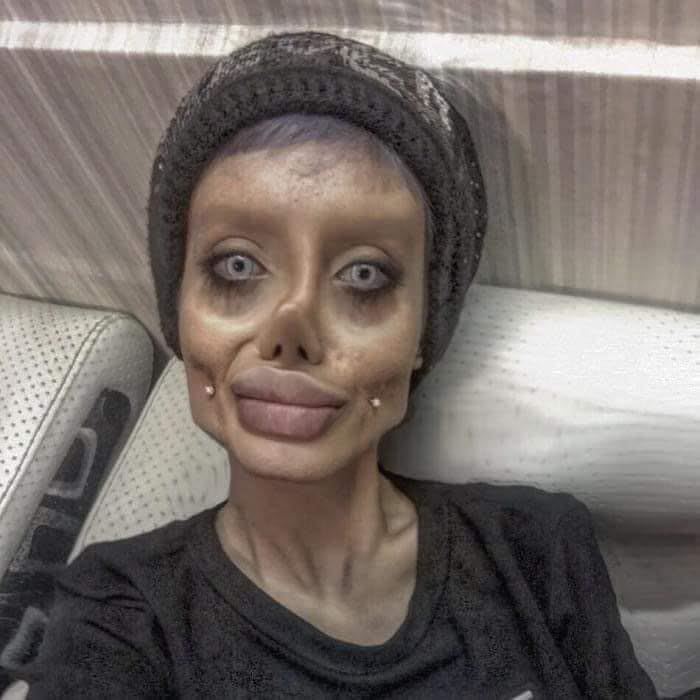 She looked like Zombie Angelina Jolie
Tabar, who is 19 years old, reportedly had over 50 surgical procedures. It was an effort to make her look different.
Even though she never said so publicly, her fans always assumed she aspired to be like Angelina Jolie. She even posted photos of herself on social media showing off her drastically changed appearance.
She had angular lips, a reshaped nose, and bony cheekbones. Some have speculated that the photographs may have been significantly manipulated or perhaps digitally altered, however it is unclear how many of these surgeries were truly conducted.
When Angelina Jolie "lookalike" began sharing photos of her bizarre appearance on social media, she quickly became a household figure. Sahar had close to 4 million Instagram followers.
Her old Twitter handle was @sahartabar official, but it has been removed. Neither her social media use nor the startling photos of her as a Zombie Angelina Jolie had been approved of by her mother.
However, Sahara claims that she aspired to celebrity status. That's why she kept going. "Cyberspace was an easy way," she said. "It was much easier than becoming an actor."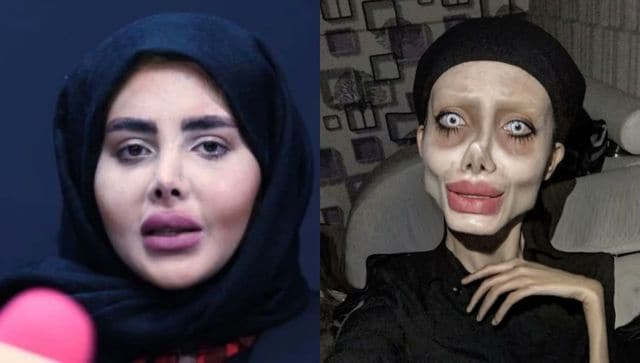 This is obviously not her true appearance
According to an interview Sahar gave to the Russian news outlet Sputnik, she has a new and increasingly humorous manner of painting her face for each new photo she releases.
Every time I publish a photo, I paint my face in an increasingly funny way. It is a way of expressing yourself, a kind of art. My fans know that this is not my real face".
She added: "I did not even think about being like Jolie. Also, I did not want to resemble the cartoon character the Corpse Bride. Now I understand that I have something to do with them, but I am a muse myself, and remembering someone is not an end in itself."
Her devotees and anybody else who has heard her story are now in a state of disarray as a result of this. This coming October, 2019, Zombies Supposedly obscene Instagram photos of Angelina Jolie led to her detention.
She was also accused of violating the country's rigorous dress code for women, as well as of illegally purchasing property, inciting violence, negatively influencing the youth, and making money by illegitimate ways.
A heavy penalty for such a young woman, she was given 10 years in prison. She wasn't just arrested; she was taken to Qarchak Prison. Which is notoriously the harshest prison a woman may be incarcerated at.
A activist has issued a request for the "genuine" Angelina Jolie to intervene
When Iranian activist Masih Alinejad learned of the case of the "Zombie Angelina Jolie," she resorted to social media to speak out.
"Sahar Tabar is only 19. Her joke landed her in jail. Her mother cries every day to get her innocent daughter freed. Dear Angelina Jolie, we need your voice here. Help us."
After she spent 14 months in prison, Sahar was released. Mahsa Amini, who had been recently imprisoned and abused by Iranian police for improperly wearing her hijab, has being held up as evidence of this.
Please SHARE this with Family and Friends!