Off The Record
A Centenarians Who Celebrated 79 Years Of Marriage Reveal Simple Secrets To Long And Happy Marriage
A lovely couple from Ohio celebrated two unbelievable milestones: they both turned 100 and celebrated 79 years of marriage.
As per reports, Hubert and June Malicote were both born in July 1922, both raised in rural Kentucky, and met when they both moved to Ohio in search of work.
The centenarian couple revealed that their relationship began as being friends, but grew into romance when they were at church.
They got married on June 8th, 1943, only for Hubert to be called for WW2 shortly after. But Jane waited impatiently at the train station upon his return home safely.
Hubert and June Malicote — they're both turning 100 next month — have been married since they were 20 and said they have never had a quarrel. https://t.co/X5mNHJRFo4

— TODAY (@TODAYshow) July 3, 2022
Today the lovely couple have three children, seven grandchildren and 11 great-grand children.
Speaking on the connection with his wife, Hubert said: "We've never had a quarrel. We've never had one quarrel."
"We didn't go through life without problems, but we would never do anything to hurt each other," he added.
"If there's controversy, you might have to walk away for a couple minutes."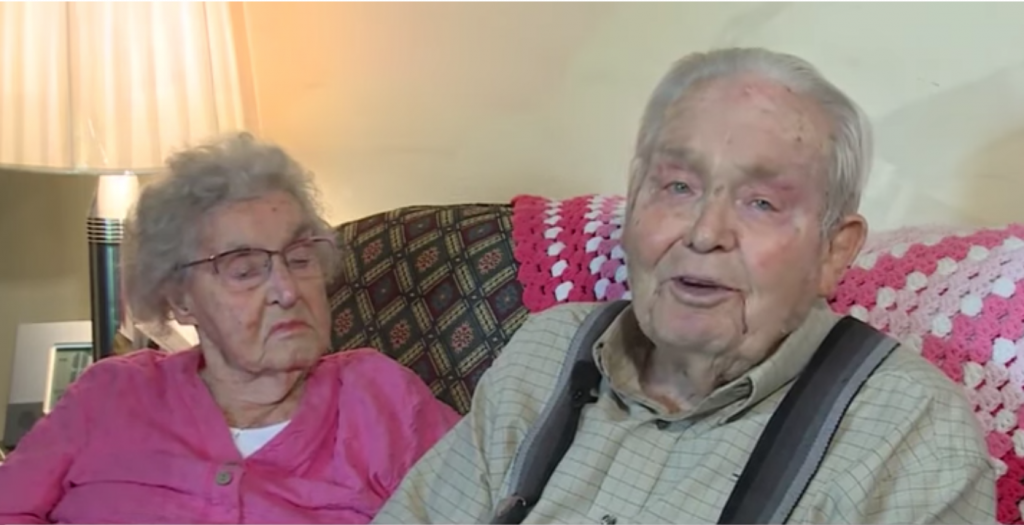 The couple enjoy a fine dinner and a movie together each night. Their bedtime ritual involves sharing a kiss before saying goodnight to one another.
Their 70-year-old daughter says: "I put Mom in her wheelchair next to where Dad is sitting and they hold hands and say goodnight to each other.
"Then in the morning, they are so happy to see each other. They greet each other with huge smiles."
Love is the most powerful force in the world. Reading stories like this one really makes my day, and I hope it made yours.
Watch the video below:
Please SHARE this amazing story with your Family and Friends on Facebook!