Off The Record
5-Year-Old Boy Visits Twin Brother's Grave in Heartbreaking Photo, But What He Told His Brother Broke Me
It's an image that broke the hearts of the people in two…
Her heart sank when Brooke was told that she'd contracted a condition called Twin to Twin Transfusion Syndrome (TTTS).
Twin-to-twin transfusion syndrome (TTTS) is a rare pregnancy condition affecting identical twins or other multiples. TTTS occurs in pregnancies where twins share one placenta (afterbirth) and a network of blood vessels that supply oxygen and nutrients essential for development in the womb. The result is that often one – or both – of the babies can become fatally starved of the essentials they need to develop.
It has nothing to do with it being genetic or hereditary, nor it's caused by anything her parents did or didn't do. It can happen to anyone… and tragically it happend to Brooke and her husband Michael.
"I was 24 weeks when we found out but they said that it had been at least a week, so we really don't know when Willis passed away," says Brooke.
"That was the thing with being pregnant with twins — I was still feeling movement, so I didn't know that I had lost a baby.
"We had already been shopping when we found out. We had cribs, clothes, toys… You're expecting to bring two babies home," she says through tears.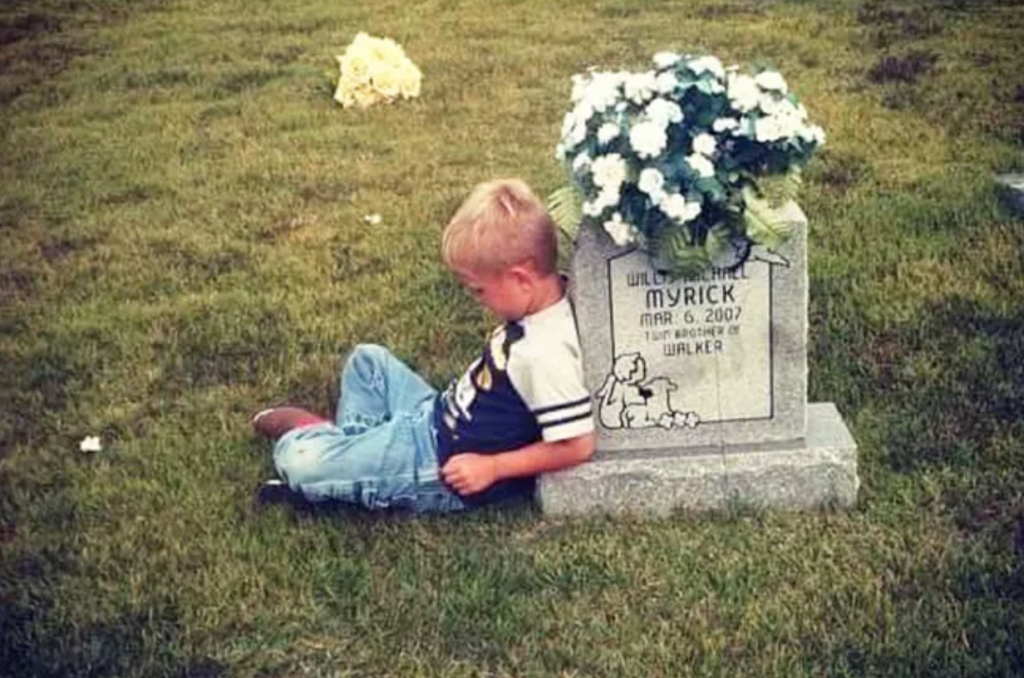 The story behind the photo
The viral photo alone touched many people across the globe. It shows Walker leaning back on the gravestone of his twin brother, Willis, bowing his head and silently explaining details of his first day of kindergarten in Greenhill, Alabama.
The photo depicts a pure, spontaneous, compassionate moment between the touching connection of two brothers. Brooke Myrick captured this on iPhone because she knew it was "really special" to her 5-year-old son back at the time.
"As we were passing the cemetery he said, 'I want to see Willis,' " Brooke, 33, told PEOPLE.
"I parked and he ran up ahead as I was unstrapping his baby brother from his car seat. All I had with me was my iPhone. I wasn't anticipating taking a photograph. But when I walked up and saw him like that, it was just one of those moments where you think: 'This is really special.'"
Walker sat beside the grave because he wanted to share a private moment with his twin. He was only there for a couple of minutes and when he was finished "he was all smiles," says mom.
"He just wanted to sit there and, I think, feel that connection," she continues. "He told us that he just wanted to tell his brother about school."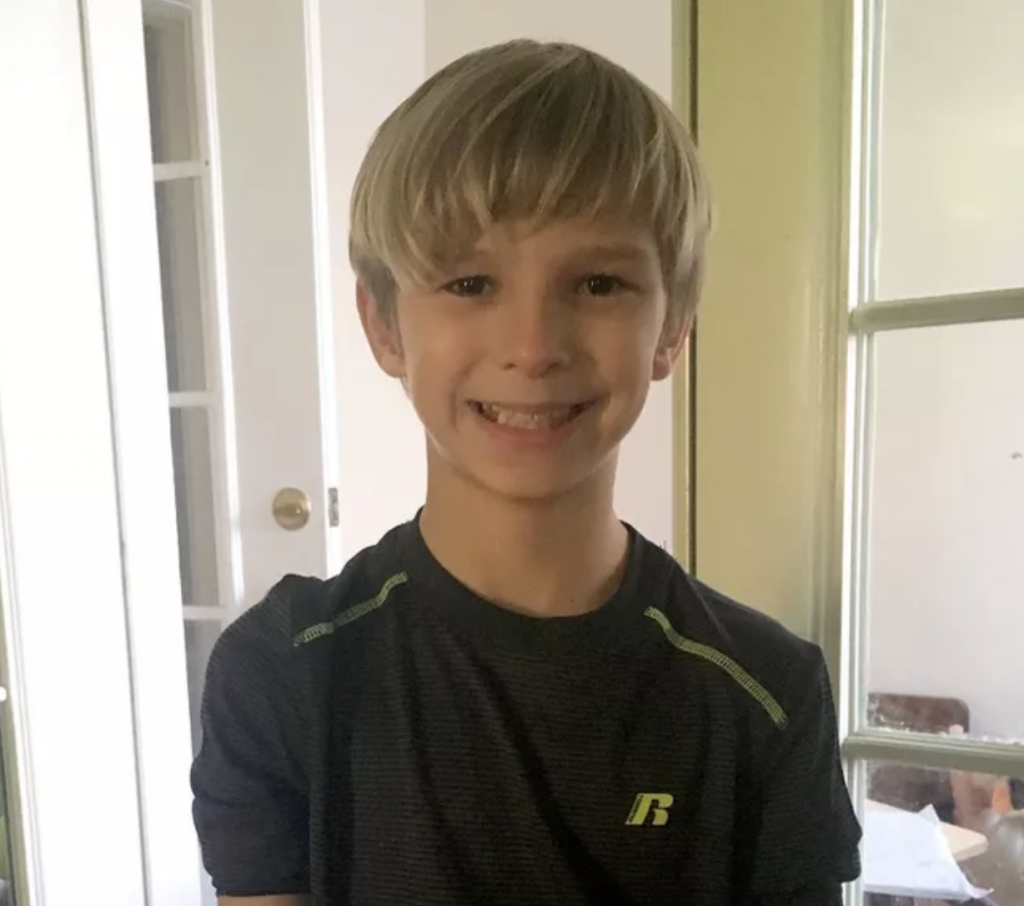 "Even as an infant I would always talk to him about Willis and he would smile," says Brooke. "At 1 or 2 years old, he would run up to the grave. We would say, 'That's your brother. That's where your twin brother is.' Because I always wanted him to know where he was going. I always wanted him to know that was an open area of his life and not to grow up ever thinking, 'I can't talk about my brother.' "
What an amazing connection that began in the womb and went on for life. Twins really do have connection, as explained in another situation where they placed one dying twin in the same incubator next to her brother and miracle happened.
Such an heart-melting story!
Please SHARE this amazing article with your Family and Friends on Facebook!