Do you want something sweet to eat, but don't want to spend too much time making it? If you're looking for a quick and easy snack, try these 5-Minute Caramel Walnuts.
The rich crunch of walnuts and the irresistible sweetness of caramel come together in this simple dish.
These caramel-coated walnuts will be a hit whether you're entertaining guests, indulging a sweet appetite, or just searching for a lovely snack.
MEASUREMENTS OF INGREDIENTS
| | |
| --- | --- |
| Walnuts | 1 cup |
| Golden brown sugar | ¼ cup + 1 tablespoon |
| Water | ¼ cup |
| Unsalted butter | 1 tablespoon |
| Salt | ⅛ teaspoon + 2 pinches |
Instructions:
The 5-Minute Caramel Walnuts are not only delicious, but also stunningly easy to make. You can whip up a delicious treat with no effort in just five minutes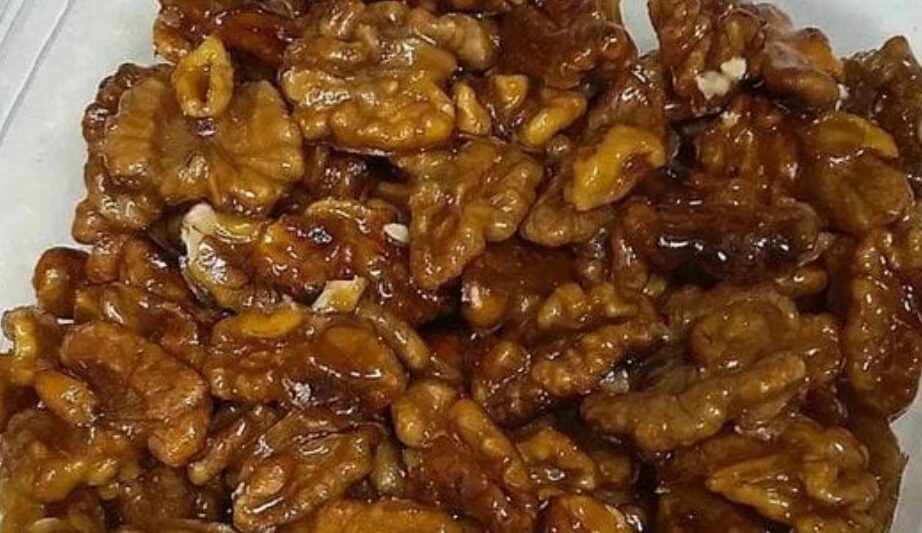 1. Set the Table
The first step is to place a sheet of parchment paper on a dinner plate or another heat-safe surface. This prevents the caramel-coated walnuts from sticking and makes the coating process go more quickly and easily.
2. Mix the Ingredients Together
Mix everything but the salt in a medium nonstick skillet. In a short amount of time, the caramel sauce that coats the walnuts in a mixture of walnuts, golden brown sugar, water, and unsalted butter becomes a delicious treat.
3. Heat and Stir
For about 5 minutes, while the skillet is over high heat, stir the mixture occasionally. Reduce the heat to medium in the final minute and stir regularly. As the water evaporates, the walnuts darken, grow glossier, and form tasty clusters of caramel coating.
4. Ensure Evaporation
Make sure all the liquid has evaporated before taking the pan off the heat. You can rest assured that the flavor and texture of your caramel walnuts will be just right if you follow this step.
5. Transfer and Season
Spread the caramelized walnuts out on the parchment paper right away. The nuts should be evenly coated, so spread them out in a single layer. Add two pinches of salt to the nuts for a delicious contrast to the sweetness and to bring out their full taste.
6. Cool and Enjoy
Let the walnuts with the caramel coating cool to room temperature. Break them apart with your fingers once they've cooled and admire the clusters of caramel-coated walnuts hidden inside. These tasty delights are best kept in an airtight container, but you should be warned that they may not survive long due to their enticing aroma and flavor.
For this recipe, a non-stick skillet is a must-have. Cooking time may increase by 30–45 seconds if you use a smaller nonstick skillet.
Frequently Asked Questions
Could I substitute dark brown sugar for the lighter golden variety?
Golden brown sugar is preferable because it has a more subtle flavor that goes well with the walnuts. The flavor and consistency could be altered by using dark brown sugar.
When will these caramel walnuts go bad?
These caramel walnuts will keep for several days if stored in an airtight container. But because of how tasty they are, they usually don't last long.
Do I need a special non-stick pan, or can I just use a regular skillet?
A standard skillet will work, but a non-stick one is recommended to keep the caramel from sticking and make the cooking process go more smoothly.
Can I use different kinds of nuts in this dish?
Absolutely! While walnuts are called for in the recipe, alternative nuts like pecans or almonds would also be delicious.
If the caramelized walnuts go sticky after being stored for a while, is it possible to reheat them?
The caramel coating on the walnuts can be re-crispified by warming them for a few minutes in a skillet over low heat. Make sure they don't get too hot.
Can I ask if these caramel walnuts are a good present?
Absolutely! These caramel walnuts are an excellent present. Put them in a pretty box or bag, and they'll make a great homemade present.
Caramel in 5 Minutes Walnuts are living proof that you don't need a lot of ingredients to make something taste fantastic.
Walnuts and caramel are a classic flavor combination, and this recipe is an easy way to combine them into a sweet treat.
Must-Read:
These caramel-coated walnuts will wow as a tasty treat, a party favor, or a thoughtful homemade present.
Enjoy a delicious treat with hardly any effort by following this easy recipe and make sure to SHARE this post with your Family and Friends!