Do you want to try something delicious and tempting?
This homemade Peaches and Cream Layer Cake is a guaranteed hit with any dessert lover.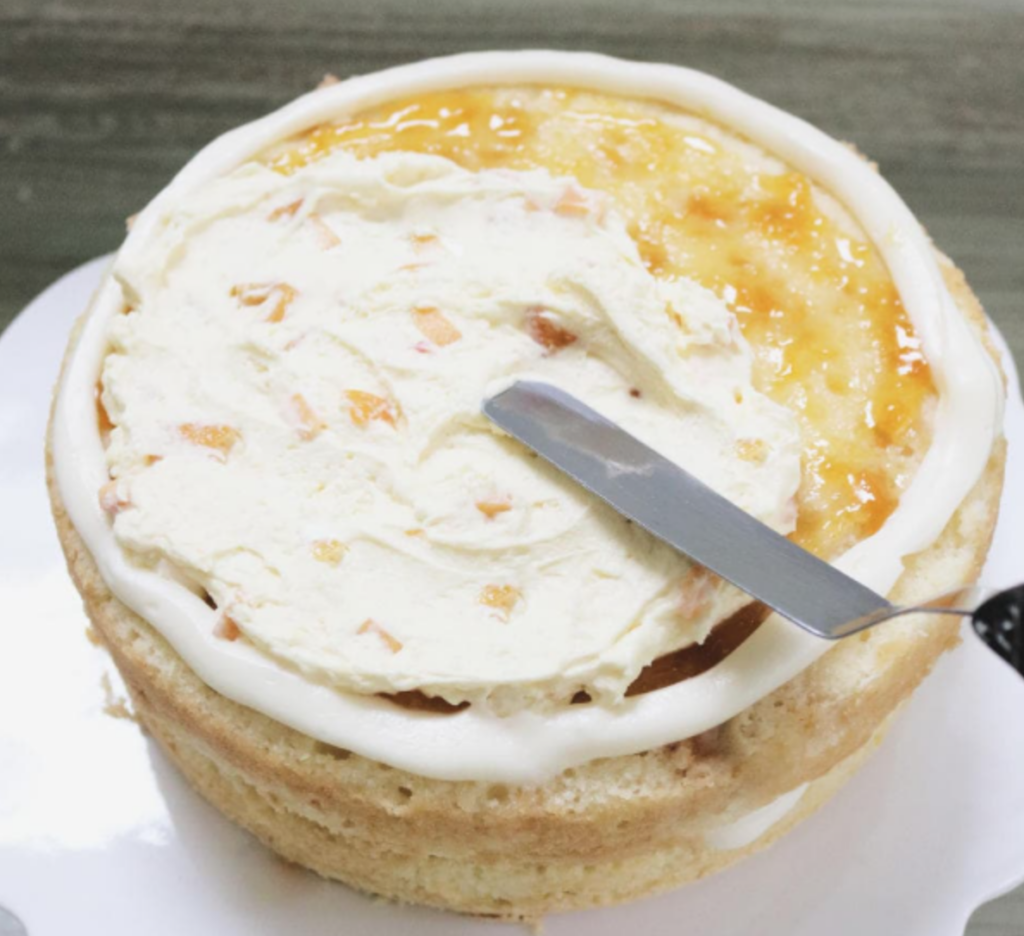 This delicious cake is perfect for the summertime gatherings we all love.
INGREDIENTS FOR THE CAKE
3 cups all-purpose flour
1 tablespoon baking powder
1/2 teaspoon salt
1 cup sour cream
1 cup milk
2 teaspoons vanilla extract
1 cup unsalted butter, softened
2 cups granulated sugar
4 large eggs
1 cup diced peaches
PEACHES AND CREAM FILLING
1 box (3.4 oz) instant vanilla pudding mix
2 cups heavy cream
1 cup diced peaches
FOR THE CREAM CHEESE FROSTING
1 cup unsalted butter, softened
8 oz cream cheese, softened
1 teaspoon vanilla extract
4 cups powdered sugar
Copy
Instructions For The Cake:
Baking the CakePrepare three 8-by-2-inch round cake pans by greasing them with butter and then dusting them with flour.
Shorter layers mean more filling in each serving when there are three layers.
You can mix the flour, baking powder, and salt in a medium-sized bowl.
Set aside. Sour cream, milk, and vanilla extract should be mixed together in a separate bowl or large measuring cup. Set aside.
Softened butter is mixed until smooth in a mixing basin.
Add the sugar gradually while beating at a medium speed for about three to five minutes, or until the mixture is light and fluffy.
To eliminate any trace of egg yolk color, beat the eggs one by one.
Alternating between the two, add the flour mixture first, then the sour cream mixture.
Don't overmix, but make sure everything is thoroughly combined.
Before adding them to the cake mixture, toss the chopped peaches with 1 tablespoon of flour. You can expect a rather thick batter.
Smooth the tops of the batter in the three pans with a spoon. A toothpick inserted in the center should come out clean or with a few crumbs attached, and the cake should be baked for 25 to 28 minutes. Please wait 5-10 minutes before turning out the cakes.
Cake flour can be readily substituted with all-purpose flour if you don't have any on hand.
Replace the flour in the recipe with cornstarch (corn flour), using just 2 tablespoons total. You can mix the two together by whisking.
Here are the Filling Directions:
In a medium bowl, mix together the instant vanilla pudding mix and the heavy cream. To achieve a thick and frothy consistency, use a hand mixer.
Add a cup of diced peaches and stir until combined.
Please keep in mind that filled cakes must be refrigerated.
Here are the steps for making the cream cheese icing:
Slice the butter and place it in the mixer's bowl. To soften the butter and make it smooth, beat it on low to medium speed.
After the cream cheese has been slightly softened, add it to the bowl and beat it on low to medium speed until it is fully combined. Let the cream cheese soften for a while more before using a hand mixer.
Include the vanilla essence.
Beat on low speed while gradually adding the powdered sugar. To avoid creating a sugar cloud, cover the bowl with a towel as you mix.
Raise the mixer's speed and beat the frosting until it reaches a frothy consistency. It could get too soft if you overbeat it. If the frosting seems too soft, pop it in the fridge for a few minutes.
For the best piping results, apply this frosting while it is still cold. It's easy to prepare ahead of time, store in the fridge, and then re-mix after a brief period of softening. Don't try to microwave it to soften it.
Cake Assembly:
Put the cake base or pedestal on the table.
Use some of the peach juice from the can to lightly brush the layer. Don't drown the surface in it, just coat it.
Using a disposable piping bag with the tip clipped off, pipe a dam of cream cheese frosting about 1/2 inch from the edge. This ring of icing will serve to enclose the filling.
After applying a thin layer of peach juice within the dam of frosting, spread a layer of peach preserves over top.
Spread some Peaches and Cream filling on top.
Feast your taste buds on this scrumptious Peaches and Cream Layer Cake.
Now Trending:
It's the ideal sweet to enjoy on hot summer days, and it'll win over even your grandparents' generation if you do it well!
Please SHARE this recipe with Family and Friends!