Off The Record
When They Made This Photo They Didn't Realize Just How Much Pain Would Come With Their Decision
TRIGGER WARNING: This post discusses miscarriage, which may be upsetting to some readers.
On the occasion of their seventh wedding anniversary, Whitney and Justin Billings made the decision to add another child to their family.
The couple had a 4-year-old girl and a 2-year-old son at the time, and they didn't foresee the anguish that decision would cause.
This California mother remained upbeat despite experiencing her first miscarriage shortly after having her IUD removed. Not until the unfathomable death toll jumped from one to seven "angel babies" in quick succession.
Early on, she suffered most of her losses.
Billings typically received the tragic news between the ages of five and eight weeks.
"I felt empty inside," she wrote on her blog, Billings Clan. "I remember reaching out to some girlfriends. To my surprise, their reaction wasn't what I was hoping for. I left feeling more empty and unsupported."
A nightmare indeed.
The cycle of falling pregnant and then losing the babies was becoming her new nightmare.
She was lonely, but she made it look like she was happy by throwing baby showers for her pregnant sister and her friends.
"Even though I post a lot of pictures, I also don't share a lot about myself, personal struggles, or anytime I have lost and grieved a baby," she wrote. "I'm more the type to suffer in silence. Somehow it made me feel more normal. Or maybe I was just burying all the pain, hoping it would go away."
There was no way for her to avoid infants.
She is a professional photographer, which means she will have to rush off to newborn and maternity sessions shortly after a miscarriage.
She gushed about the experience of photographing newborn newborns: "I loved the opportunity to hold these sweet, new, and fresh smelling babies."
"However, at the same time I was bottling up the deepest depression inside. Holding it all in just to keep my professional status. Unfortunately, [it] didn't matter what I did."
You can never get used to it.
And Billings wants people to know that the sorrow and despair that comes with so many miscarriages does not get easier with time.
"I was right back where I left off. Depressed, sad and blaming myself for what had happened. Every time I experienced this, I fell into this deep pit and couldn't pull myself out," she wrote. "While this may not seem far enough along to be attached … let me tell you the emotional and physical aspect of it all is enough to rock your world."
This may not seem like a good time to become involved, but trust me when I say the mental and physical strain will be too much to bear.
The medical staff had no idea what was happening.
Billings had six miscarriages in a year without any explanation, despite several visits to the doctor and comprehensive blood tests that came back normal. Many bystanders were at a loss as to what to do while she struggled.
"Some reason people liked to remind us what we already had, when they would find out about us losing a baby. 'Oh well you already have a boy and a girl, so you will be ok,'" she wrote. "These comments were hurtful to us, and so many more comments that were made that aren't even worth mentioning." "These comments were hurtful to us, and so many more comments were made that aren't even worth mentioning."
Her subsequent loss was terrible.
When she became pregnant for a second time, though, everything changed. Her belly grew, and the baby appeared healthy. She brought her mother and three-year-old daughter to a sonogram after feeling the baby kick for the first time.
But suddenly the sonographer broke the silence: "There's no baby in there. I'm not getting anything and definitely no heartbeat," I'm not picking up a thing, and there's no sign of a heartbeat anywhere," she recounted.
They held on till the end.
"I lay there frozen. My body didn't move and all I heard was my little 3-year-old saying, 'Where's the baby mama?' I didn't believe it. I couldn't believe this!" she wrote. "All I remember saying is, 'No, I felt the baby kick' and she replies with, 'No you didn't that's impossible. There's no baby there…' I just picked up my stuff and left. Straight walked out. AND YES I did feel that baby move! Who was she to tell my body what I did or didn't!?"
They were still trying to start a family on their tenth wedding anniversary.
After two agonizing years and seven miscarriages, they were doing it differently than planned. They were preparing to become foster parents.
A photo session was held to celebrate the occasion.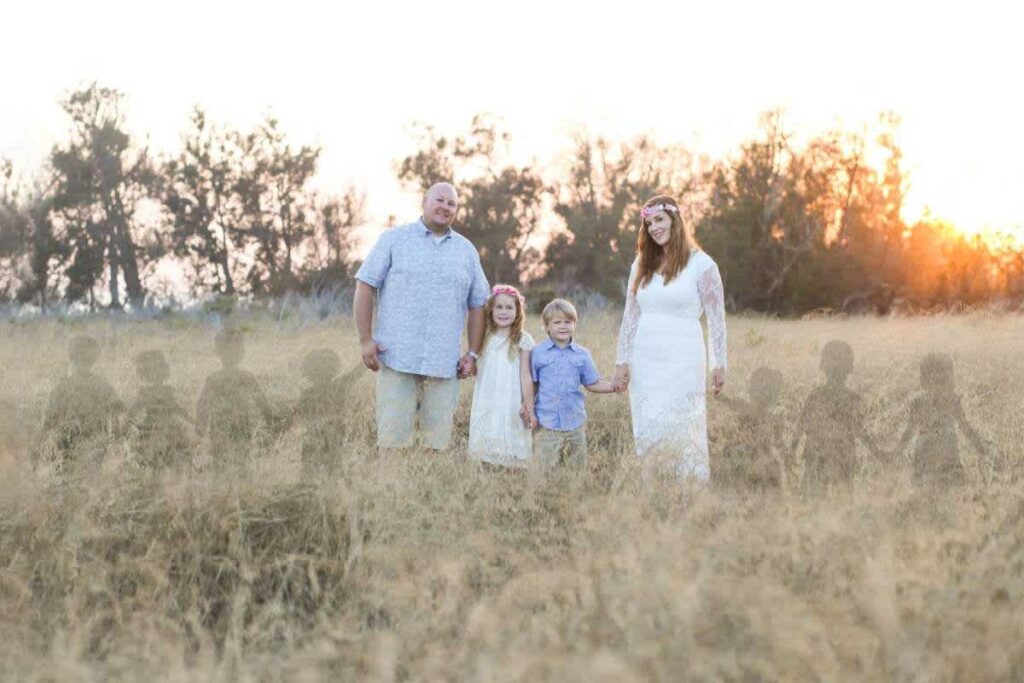 They decided against expensive gifts or a far-flung vacation to mark this momentous occasion in their marriage and family life.
"I'm grateful for every single contraction I felt, the pain my body had to endure, the blood that left my body, and the emptiness I felt because it reminds me that our baby was real. I carried that sweet baby, and I knew him. I felt him kick, I talked to him, his siblings talked to him and every single day that I was pregnant and nauseous was all worth it."
It was a touching tribute to their departed loved ones.
Emily Grace, a personal friend of Billings and a professional photographer, took a picture of the whole family, including her two children and her seven "angels" in paradise, that is unlike any the couple has seen before.
"I want people to know that being a mom of angel babies means my babies DID EXIST and they are real!" Billings tells CafeMom. "People have said, 'Oh well you were only pregnant for six weeks, so it's not really like a loss.' THIS IS WRONG. No matter how far along you are, 6 weeks, 12 weeks, 27 weeks, that's a little person you created living in your body. THEY ARE REAL!"
Now Trending:
Years after Billings first realized what her family looked like as a unit owing to her friend's skill and Photoshop, she is still using the experience to recover and is now using it to help other families.
"Even if it only reached five women, that was enough medication for me. I feel like it's really important to educate the world on what occurs when someone loses a baby," she says. "How it affects the woman, the man, and the family. I would love to normalize miscarriage as a whole, and by me opening up to society and telling my story it's a start! Women shouldn't feel ashamed when they lose a baby, they should feel like they can reach out to people and get the help they need."
Please SHARE this article with Family and Friends!