Off The Record
'The Alligator's Got Her!' Terrified Onlooker Yells In Horror Moments Before An Elderly Woman Is Dragged By An Alligator
The frightening attack and subsequent death of a Florida lady while she was walking her dog near a lake in her community has been seen on film for the first time.
A neighbor who saw the woman's nightmare unfold on footage obtained by Inside Edition contacted 911 and rushed to her aid. Unfortunately, it was already too late.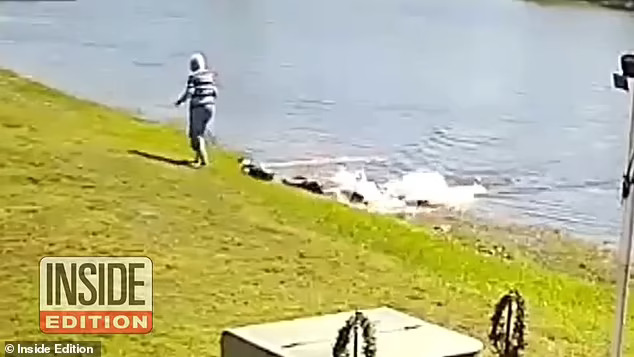 On Monday, 85-year-old Gloria Serge was killed when a 10-foot alligator attacked her as she tried to save her dog, Trooper.
Serge's puppy was unharmed in the attack, but the alligator responsible was eventually caught and put down.
Check down below for the video…
At the Fort Pierce, Florida retirement community at Spanish Lakes Fairways, a wildlife camera caught Serge's final moments.
Woman and her dog are taking a stroll by the water when suddenly an alligator pops out and lunges at them.
In spite of Serge's best efforts, the dog was dragged into the water by the alligator after he tried to save her from its jaws.
Carole Thomas, 76, her terrified next-door neighbor, said she tried to help the woman while calling 911.
'There's a woman in the lake. The alligator's got her!'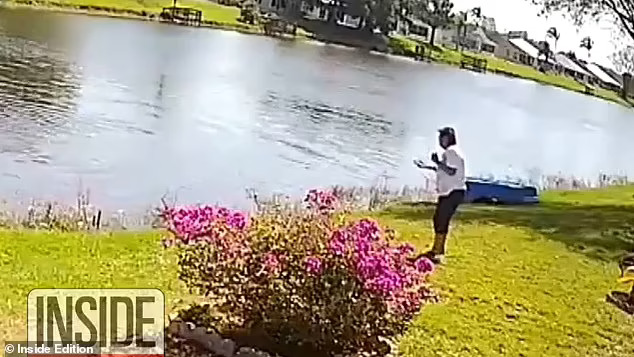 As the call progressed, the neighbor's concern grew because she still hadn't seen the woman emerge.
Thomas sobs over the phone, 'I think she's gone, oh my God.'
Thomas claimed she retrieved a stick and attempted to drag the woman to shore, but ultimately concluded, 'There is no way I could have gotten to her sooner.'
'It's horrible for her family,' Thomas added. 'It's just horrible, horrible. And her friends, I spoke to a couple of her friends yesterday who are devastated.'
Her body was pulled out of the lake days later.
Inside Edition was told by locals that the gator, whom they refer to as Henry, is a regular sight in the area. After the attack, he was taken in and put to death.
Dog walkers in Florida are being warned not to take their pups near any lakes or ponds.
With Serge's death, the total number of Floridians killed by alligators since last July stands at three.
The alligator was spotted by wildlife experts at the pond's bottom, and after being taken out of the water, was sat atop by an official.
In July 2022, an old woman from the Boca Royale Golf and Country Club in Englewood fell into a pond and was killed by two alligators.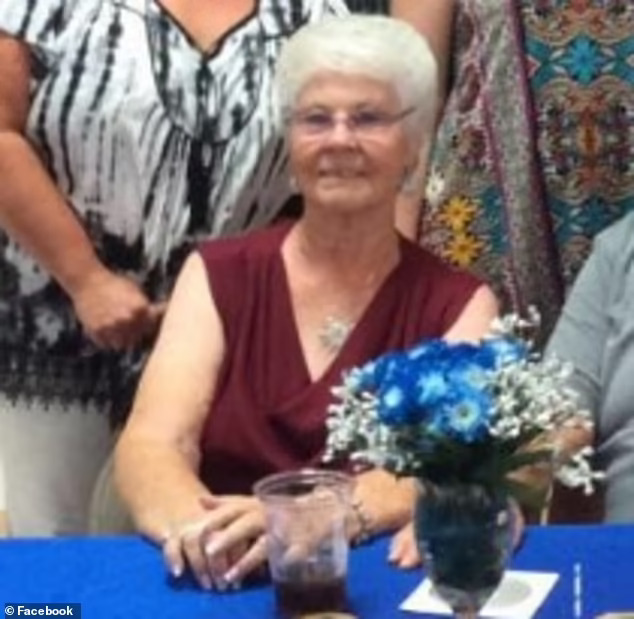 Two alligators were spotted swimming toward the struggling woman, whose name has not been revealed. Then, before she could get away, they seized her and murdered her.
The body of Sean Thomas McGuinness, 47, was discovered in May 2022 at the lake in John S Taylor Park in Largo, Florida, with three of his limbs missing.
Now, investigators think he went into the 53-acre freshwater lake in search of UFOs before he was attacked. According to the Miami Herald, the park features an 18-hole disc golf course, with five holes located near the lake.
Authorities noted that park management had reported 'McGuinness was known to frequent the park and enter the lake with disregard to the posted 'No swimming' signs.
'A witness also advised detectives that McGuinness was known to sell discs back to people within the park, and McGuinness was found within a few feet of a disc in the water.'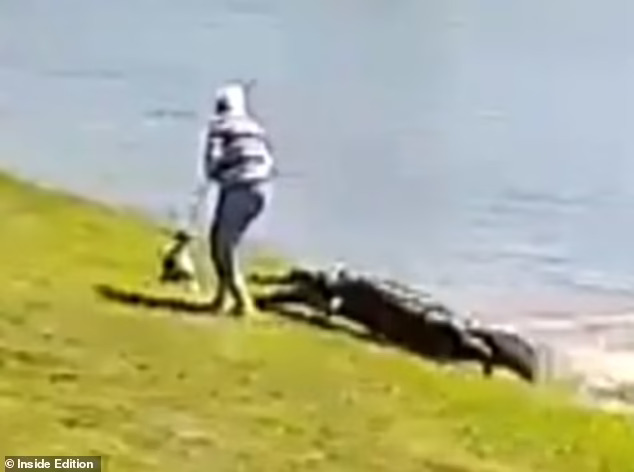 A total of 1.3 million alligators live in Florida's 67 counties; they frequent the state's freshwater and, on rare occasions, its saltwater ecosystems.
Nonetheless, alligator attacks on humans in Florida are rather uncommon.
There have been 442 reported occurrences of unprovoked biting in Florida between 1948 and 2021, with 26 resulting in human fatalities.
The Florida Fish and Wildlife Conservation Commission reports on its website that during the previous decade, there have been an average of eight unprovoked bites each year in Florida severe enough to require medical care.
'The likelihood of a Florida resident being seriously injured during an unprovoked alligator incident in Florida is roughly only one in 3.1million,' it said.
As reported by the Florida Fish and Wildlife Conservation Commission (FWC), "serious injuries caused by alligators are rare in Florida" after yesterday's attack.
'The FWC places the highest priority on public safety and administers a Statewide Nuisance Alligator Program (SNAP) to address complaints concerning specific alligators believed to pose a threat to people, pets or property.
Check the video below:
'People with concerns about an alligator should call FWC's toll-free Nuisance Alligator Hotline at 866-FWC-GATOR (866-392-4286).
'When someone concerned about an alligator calls the Nuisance Alligator Hotline, we will dispatch one of our contracted nuisance alligator trappers to resolve the situation.'
Please SHARE this article with Family and Friends to keep the memory alive of this innocent woman!