Off The Record
Sinéad O'Connor Shared Heartbreaking Post About Late Son Shane Days Before Death
Irish singer-songwriter Sinéad O'Connor, whose rendition of "Nothing Compares 2 U" by Prince was a massive hit in the '90s, has passed away at the age of 56.
Her family told The Irish Times, "It is with great sadness that we announce the passing of our beloved Sinéad. Her family and friends are devastated and have requested privacy at this very difficult time."
O'Connor's music was praised by critics and she became famous all over the world, but she also had problems with her mental health and was often at the center of controversy because of her strong opinions on political and social matters.
O'Connor was born on December 8, 1966, in Dublin. She had a traumatic upbringing due to what she claims was physical abuse at the hands of her mother.
When she was 15 and institutionalized for theft and truancy, she found her musical voice at the asylum.
At age 20, she made her debut in The Lion and the Cobra (1987). O'Connor received a Grammy nod, and the album went to the top of the charts around the world.
Both Slant and Pitchfork ranked it as a top album of the 1980s, with the former calling it "one of the most electrifying debuts in rock history" and the latter saying that its "themes of patriotism, sexuality, Catholicism, and social oppression set the stage for a career marked by a resolute sense of independence."
O'Connor became famous all around the world, and her shaved head became a symbol of her rebellion against stereotypical expectations of women's appearance.
O'Connor's most successful album to date was 1990's I Do Not Want What I Haven't Got, which featured her cover of Prince's "Nothing Compares 2 U," the song for which she is best known and which peaked at number one on the Billboard Hot 100.
It was voted 1990's "#1 World Single" by the Billboard Music Awards and is routinely included in best-of compilations.
O'Connor's global fame was diminished despite the fact that she continued to release critically acclaimed albums.
Most notably, in 1992, she tore up a photo of Pope John Paul II while performing Bob Marley's "War" on Saturday Night Live, encouraging viewers to "fight the real enemy."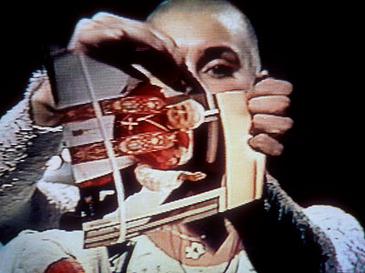 The event, which was meant to be a protest against the Catholic Church's handling of sexual abuse cases, was widely panned.
Despite the damage to her career, O'Connor said subsequently, "Everyone wants a pop star, see? But I am a protest singer. I just had stuff to get off my chest. I had no desire for fame," she wrote in her 2021 memoir Rememberings.
She was a priest in the Irish Orthodox Catholic and Apostolic Church, while being an outspoken critic of the Catholic Church. But in 2018, she said that she was changing her name to Shuhada' Davitt to reflect her new Islamic faith.
Complex post-traumatic stress disorder and borderline personality disorder were among the many mental health diagnoses O'Connor received throughout her life.
In 2007, she revealed to Oprah Winfrey that she had attempted suicide on her 33rd birthday.
O'Connor's son, Shane, was 17 when he took his own life last year.
After her son's murder, O'Connor declared she would never sing again, delaying the release of her new album and canceling a tour. "There will never be anything to sing about again," she said.
Her three kids will miss her terribly. The cause of death was not disclosed by the family.
Musicians throughout the world expressed their sorrow at O'Connor's passing by paying tribute to her music and advocacy work.
Folk performer Grace Petrie lamented, "Desperately sad news about Sinead O'Connor," tweeting about the singer's passing. "An amazing musician and an incredible voice for justice who deserved far better than the many ways music and media treated her."
"Not sure I have seen an artist take a risk or a stand comparable to the one she took in 1992 on the biggest platform she had ever had. Utterly uncompromising. Rest in power."
Now Trending:
"Her music was loved around the world and her talent was unmatched and beyond compare," Prime Minister of Ireland Leo Varadkar wrote. "Condolences to her family, her friends and all who loved her music."
In a tweet on July 17 from a now-deleted Twitter account she started, O'Connor — who died aged 56 on Wednesday — wrote, "Been living as undead night creature since. He was the love of my life, the lamp of my soul. We were one soul in two halves. He was the only person who ever loved me unconditionally. I am lost in the bardo without him."
Sinéad O'Connor, a really unique and fearless musician, has passed away. Her legacy as a musician will endure.
Please SHARE this story in memory of Sinéad O'Connor!