Uncategorized
Simon Cowell's New Look Has People Talking – And They're All Saying The Same Thing
Simon Phillip Cowell is know all over the world for being the creator of the franchises "The X Factor" and "Got Talent", which have been sold around the world. He's a music mogul, titan of business, and known for his 'raw' and 'uncut' personality judge on 'America's Got Talent' among the other talent shows.
Recently, the 63-year-old had fans worried. The Britain's Got Talent judge broke his back in August 2020 when he fell from an electric bike he was testing at his home in Malibu, California. After he went under the radar, he's back in the spotlight with a brand new look.
Known for his raw, 'unpleasant' comments towards the contestants, today fans put him in the spotlight for the looks… which some would argue it doesn't look good.
🤡Simon Cowell has sparked concern from fans in a new video shared to social media on Thursday. pic.twitter.com/ncePBmmq3T

— .. (@Xx17965797N) December 1, 2022
Cowell appeared in a video urging people to sign up for the next season of Britain's Got Talent, but people were more interested in his new facial outlook.
Fans were worried that Cowell went too far with plastic surgery.
One user on twitter said: "Did someone put the Simon Cowell statue too close to the lights at Madame Tussauds?"
Another one wrote: "You really do have to question the ethics of some aesthetic practitioners if they are prepared to do that to someone. He literally looks like a Tussauds waxwork."
Third user said: "This is not Simon. The real Simon is not with us anymore."
Cowell didn't keep his past surgeries in the dark. Speaking to The Sun, he once admitted: "There was a stage where I might have gone a bit too far. I saw a picture of me from 'before' the other day, and didn't recognize it as me first of all.
"Eric [Simon's son] was in hysterics. Enough was enough. There is no filler in my face at all now. Zero."
This is not the first time fans were worried about the music mogul. As we noted, two years ago he had a petrifying accident with an electric bike. He says he was 'lucky to survive' his back surgery after the bike fall.
After six-hour surgery and placement of a metal rod, Cowell was 'doing fine.'
"I knew I'd broken my back the minute I landed," he said. "It was really, really kind of sudden and it hurt."
"It could have been a lot worse. When I saw the X-ray, I really nearly could have smashed my spine to pieces, so I literally wouldn't have been able to walk."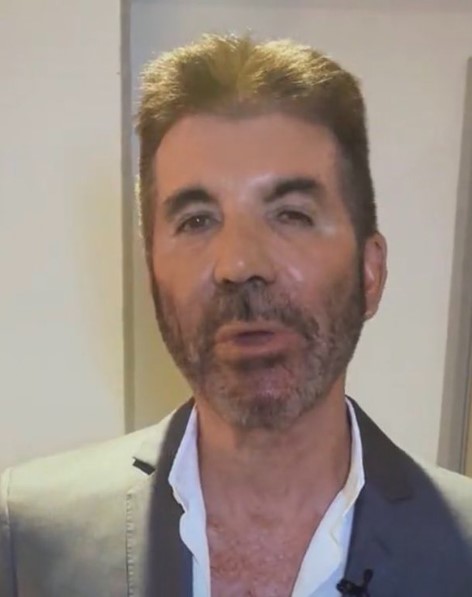 Regarding his plastic surgery, this isn't the first time Cowell drew attention on social media. In 2019, plastic surgeon Dr. Anthony Youn called out Simon for doing excessive injections: "I think he's had some bad Botox. If botox is injected too far out on the side of the forehead, it can cause the forehead and eyebrows to droop," he said.
Kristina Kitsos, another aesthetic injector expert also critized Simon's decision: "Simon Cowell has had too much botox in the lateral forehead, causing the sides of his eyebrows to droop down like that. I strongly advise my clients to do a little and add to it if necessary, therefore they look rested and natural. This is definitely a case where less would have been more," Kitsos told Radar Online.
Whether Simon's looking better or not, it's completely up to the viewers, but at the end of the day he makes the decision for his own life.
We wish him all the best!
Please SHARE this post with Family and Friends!