Off The Record
She Was Hired To Care For Their Baby Just 3 Weeks Earlier. But The Parents Never Expected What She Was Going To Do
Every high school and college student needs more cash to pay their bills. That's when 22-year-old Kiersten Miles from New Jersey took a job as a nanny.
George and Farra Rosko, family with 3 children, needed a good babysitter to take care of their kids, as the youngest child, 9 month old Talia had been diagnosed with biliary atresia, which causes liver malfunction, and the family was going through a difficult time as the initial treatments didn't go well…
When they hired Kiersten for the job, they had no idea how she'd turn out.
he family was waiting for a liver donation to become available for poor little Talia.
They waited so long, but the list for these kinds of things can span years, and the time for little Talia was running out.
Doctors had to announce the sad news and told the family that Talia might not live to see her second birthday if she didn't get a liver transplant soon. Kiersten had chills down her spine when she heard this.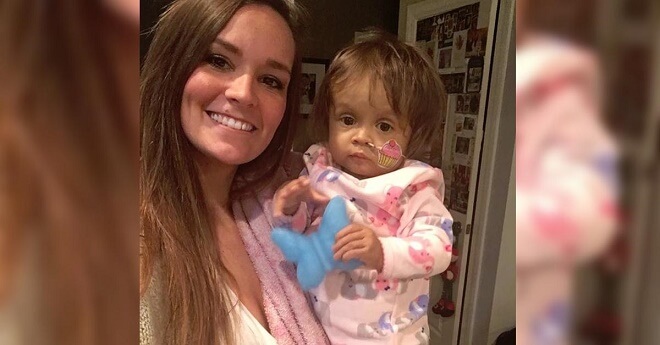 She was with the family for three weeks, but she already fell in love with them, especially with the youngest poor baby.
Committing to do a heroic thing, she went out and got tested to see if she was a match for Talia.
She simply couldn't fathom the idea that she might not get to see her 2nd birthday.
Kiersten had a long thought over what she was about to do and spoke to the Roskos.
At first, the family thought Kiersten had no idea what she was committing to—the operation, the recovery and not to mention the risks involved. They had no idea Kiersten did her due diligence for the part…
She knew exactly what she was getting into, and she was seriously committed.
They made the appointment, and the young woman got tested. She was a match! Now they began to prepare.
The procedure would last for 14 hours, but Kiersten would have to spend a week in the hospital and leave with a five-inch scar… but all of that didn't seem to matter if it was going to keep the little baby alive.
Without hesitation, they moved her and the young one to the operating table.
Both the nanny and the now 16-month-old toddler are doing well and recovering!
By seeing her hugely generous sacrifice as a small gesture, Kiersten saved not just a life but an entire family!
Brave people like her are what we need more of in this world. With a little determination and sacrifice, we can all do heroic things to help one another.
Please SHARE this post with your Friends and Family on Facebook!