Off The Record
She Made Her 10-Year-Old Daughter Walk To School In The Middle Of The Street And Some People Are Furious
When we say "discipline" it means to impart knowledge and skill – to teach. When it comes to disciplining children it is important to teach them to make a distinction between right and wrong. As a "fresh" parent I think that particular discipline allows them to become moral human beings when they grow up. Sometimes we have to do, and say things to our children that might not be comfortable in the moment, but certainly worth it long-term.
There is great diversity of opinion between the various disciplinary methods of parents and the short/long term consequences of it.
Some say that punishment takes the focus away from what a child should be doing or why they should do it. It does not give the child tools to meet their needs in a different way. Instead, it makes the child angry.
However, presenter and researcher Robert Larzelere, PhD, of Oklahoma State University, said at a symposium: "Parental discipline and positive parenting techniques are often polarized in popular parenting resources and in parenting research conclusions, but scientifically supported parenting interventions for young defiant children have found that timeouts and other types of assertive tactics can work if they're administered correctly."
Whichever tactic parents choose to discipline their children it should never include spank, hit, or slap on any age.
A picture was posted by a mom, Gabby Bell, who choose to discipline her 10-year-old daughter in a way that some find unacceptable, but others are completely on her side. Whether this is considered 'good parenting' we will let you decide.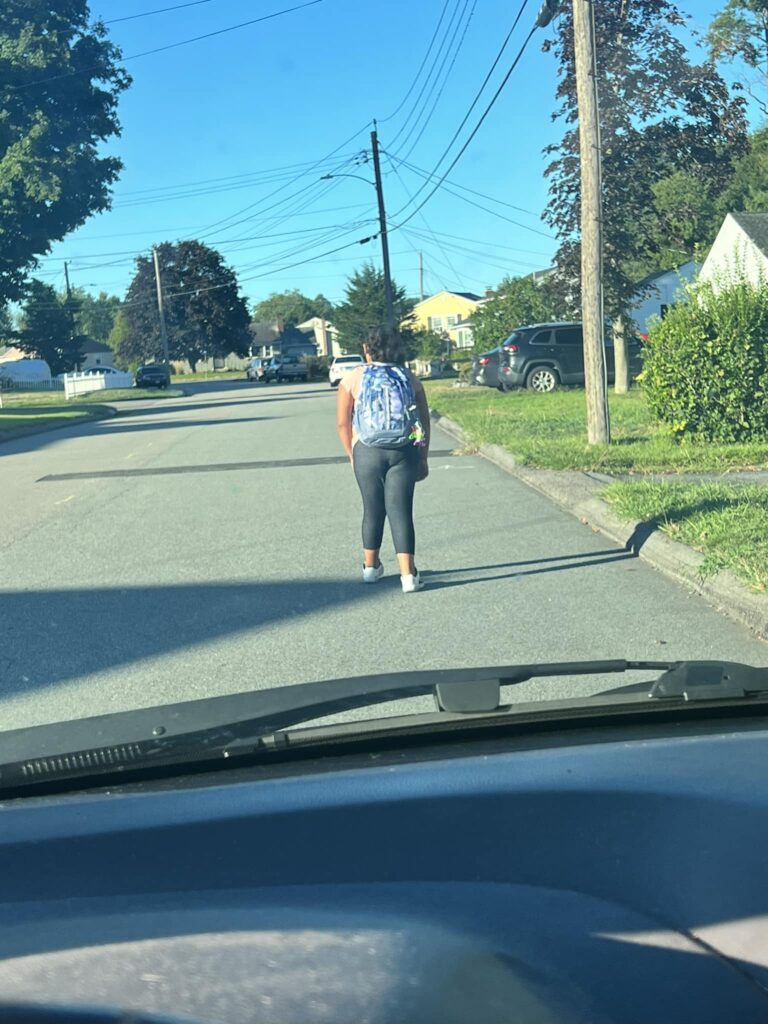 "This morning a few people saw my daughter walking to school & me following behind her. Some asked me why I did that & others gave me a stank stare.
I'm very well aware she's only 10. And she walked Because I told her to.
Because she forgot how to treat adults, So I told her to walk.
Because she mistakenly associated her size with her authority, So I told her to walk.
Because her behavior towards me & other adults is unacceptable, so I told her to walk
Until she can appreciate the free ride to/from school. Respect and listen to me. I'm the mom who is watching to know that she's safe. I'm also the mom who is not here to be her friend. I'm the mom who is okay with her child being angry at her sometimes. I'm the mom who is desperate to leave this world better than I found it, through the people I'm bringing up into it.
A lot of people are so afraid to hurt their kid's feelings, but she'll only be mad at me for a little while.
I'm more afraid of my kid growing up to be an entitled a**hole.
We're not here to be their friends. We're here to make sure they grow up to become a friend worth having. So yeah she was walking. Thinking. Reflecting. Maturing. Learning. Growing.
And I'm watching."
Do you think her mom made the right choice?
Please SHARE this post with your opinion as your caption!