Off The Record
Model Says She Struggles To Get Employment With Her Body Fully Covered In Tattoos
A model from Australia says she can't seem to get work. Why? She attributes it to the fact that she has tattoos on nearly every part of her body.
Amber Luke, who was born in Queensland, has received a lot of media attention because of the tattoos and other changes to her body.
Nearly $250,000 was spent on her appearance, earning her the nickname "Dragon Girl."
Unfortunately, despite all of this effort, Amber still doesn't appear to have much luck in the job market.
She still hasn't found work, even though Australia is a quite liberal place.
The Brisbane radio show Robin, Terry, and Kip discussed the tattooed model: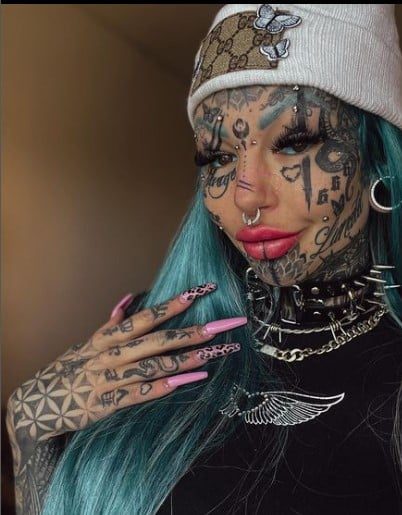 "I am not going to sugar coat it, it has limited my employment options but that's okay. Because the way I see it, I don't want to work for a company that's shallow-minded and can't look past my image. They won't look at my work ethic, they won't look at my morals or my values, or what I have to bring to the table."
A model with many tattoos may have trouble getting hired permanently.
Unfortunately, comments have been made pretty bluntly.
"Everyone has their own opinions of what beauty is. You see these cultures where people stretch their necks, their ears, and their lips. But at the end of the day, we all are entitled to our opinion and that's okay.
But, what gets to me is when someone expresses their opinion to me in public and comes up to me and says, 'Oh, you're ugly', or 'You've ruined yourself' It is very distressing to know that people have that strong opinion and they can just voice it without any repercussions."
A photomontage depicting Amber's development over time.
The tattooed beauty continued by saying that her ink didn't cause any harm.
The model is pleased with her accomplishments, even if her followers have repeatedly asked her to stop tattooing.
She claims that the money spent on her transformation into a more durable version of herself was well worth it.
It was hardly a painless surgery, though. Luke recalls that she cried bright blue tears when she tattooed her eyes.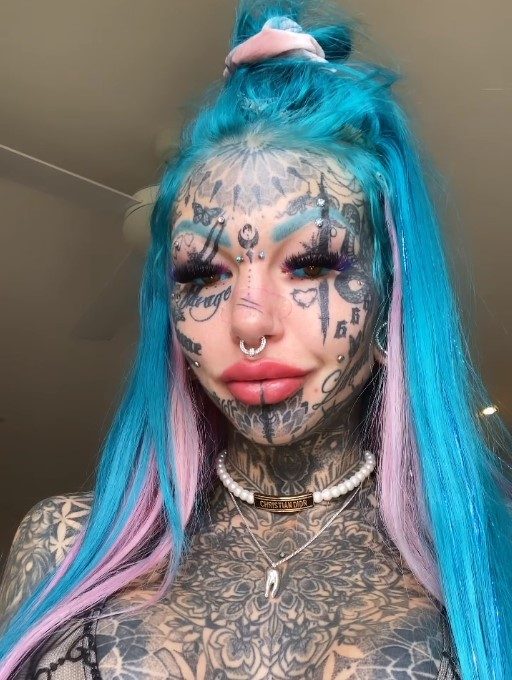 So that she would always be reminded, she had a tattoo of it put on her chest.
Although she says that getting her eyeballs tattooed fully turned her off to the idea of further body modification, this is only partially the case.
She's altered quite a bit since then, with procedures like butt lifts and breast implants among them.
A picture depicting the moment when Amber's tattooed eyes made her cry blue tears.
A lot of work has been done surgically on Amber Luke.
Before her transformation in 2020, Amber shared a snapshot of herself online. Obviously, this generated a lot of interest on Instagram.
The caption read, "We've all got to start somewhere. This was me at 18 years old. I was so catatonically depressed, suicidal, and was a walking dead girl. I was numb. I hated myself a majority of the time- that hatred ran deep. It tormented me. Now, I've totally transformed myself into someone I'm proud of being. I'm a strong woman who knows exactly what she wants and who she is."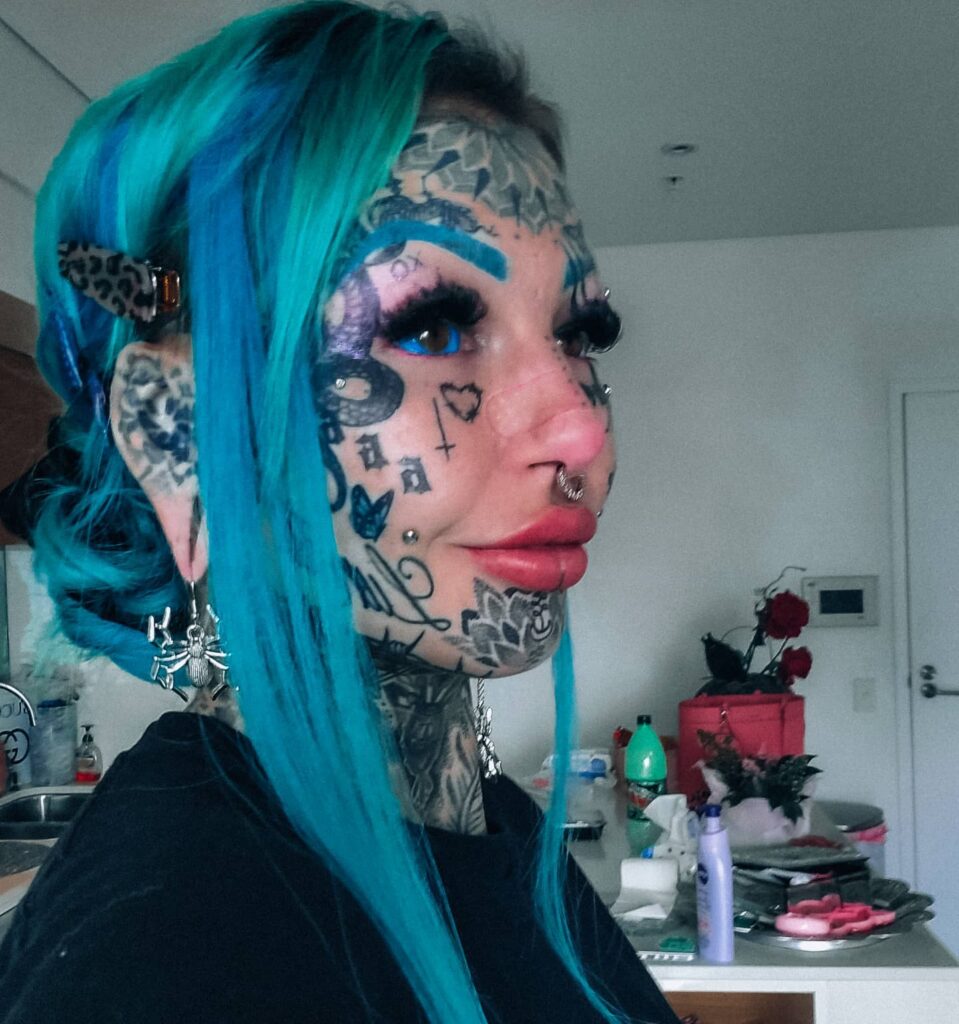 Amber bundled up for the cold.
She also detailed the potentially life-threatening procedure by which she had tattoos on her eyeballs.
"I can't even begin to describe to you what the feeling was like, the best thing I can give you is once the eyeball was penetrated with the ink, it felt like the tattoo artist grabbed 10 shards of glass and rubbed it in my eye. That happened four times per eye, that was pretty brutal. Unfortunately, my artist went too deep into my eyeball. If your eyeball procedure's done correctly, you're not supposed to go blind at all. I was blind for three weeks. That was pretty brutal."
Photo of Amber Luke before she changed drastically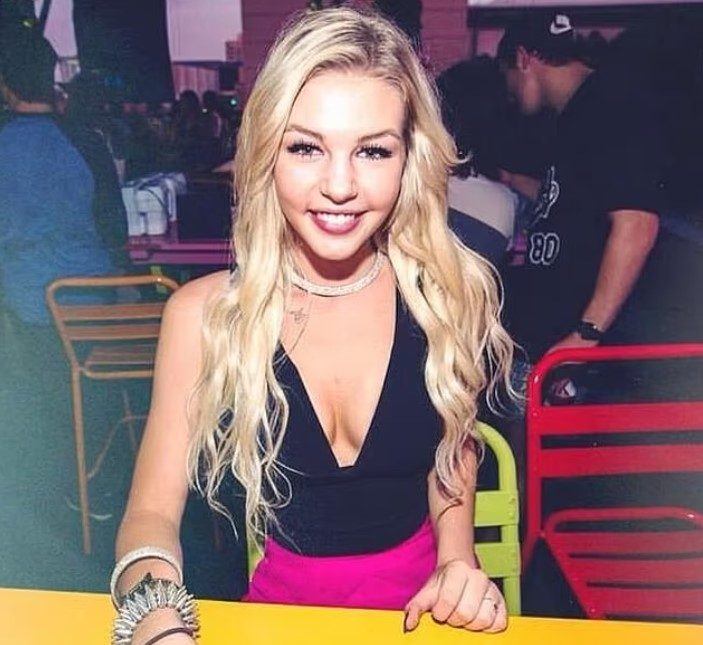 This woman is proud of not only her tattoos but also her tooth piercings. She thinks they bring out her dragon eyes.
"I look at my mouth now and I'm like 'Holy c***, it's so icy and blinged out and I'm so happy about everything I've done to my teeth. I originally got my fangs extended and sharpened but a month later, I wasn't happy with how short they were. I went back and got them extended and sharpened again, which set me back $1,000 AUD as there was more material used and my private health didn't cover me as much as they did the first time."
Now Trending:
"My VVS white gold tooth, which is permanent, is fixated next to my fang. It's a veneer with a flawless pave finish and cost me $5,000 AUD for one singular tooth."
Please SHARE this article with Family and Friends!