Off The Record
Jeremy Renner Gives First Interview Since Snowplough Accident Almost Killed Him
Although the snowplough he was operating left the Avengers star in critical condition, he says, "I'd do it again" to save his nephew.
Jeremy Renner, who has not been seen in public since being badly injured in a snowplough accident in January, will soon give his first interview since the incident. He plans to tell journalist Diane Sawyer that he was "awake during every moment" of the disaster.
Prior to the release of his new Disney+ series Rennervations, on April 6, an ABC News special titled Jeremy Renner: The Diane Sawyer Interview – A Tale of Horror, Survival, and Triumph will air in the United States.
Early in January, the Avengers actor's Sno-Cat machine ran him over, leaving him with significant injuries including traumatic chest trauma and orthopaedic fractures.
The interview's teaser trailer has been released, and it features the actual 911 call that saved Renner's life. Others can be heard encouraging the 52-year-old star to "keep fighting" despite his painful groans.
"All of it," Renner tells Sawyer, when she asked how much of pain he remembers. "I was awake through every moment."
As Renner was using the Sno-Cat to help his nephew dig out his automobile near his Lake Tahoe house, the vehicle started to move. The actor was killed when he tried to stop the machine from crushing his nephew.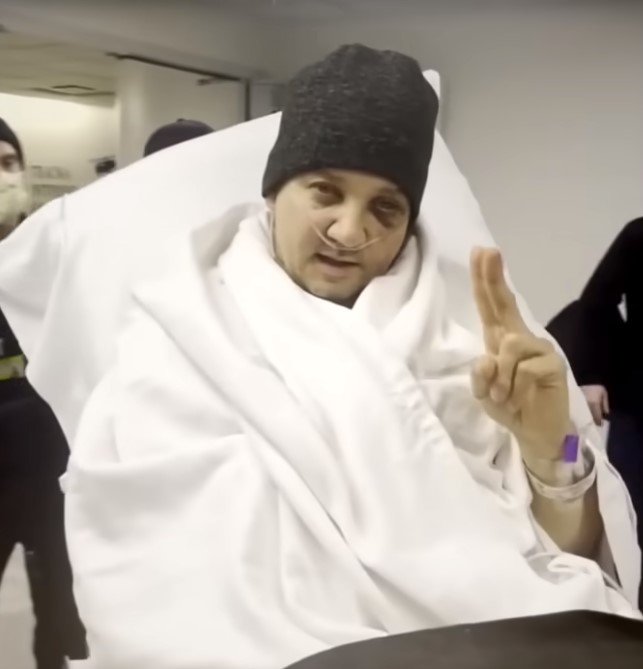 "I'd do it again," Renner tells Sawyer. "You'd do it again?" she asked, incredulous.
"Yeah, I'd do it again. 'Cause [the snowplough] was going right at my nephew," Renner replies.
"I see him in a pool of blood coming from his head," Renner's nephew told Sawyer in the interview. "I ran up to him. I didn't think he was alive."
A list of Renner's injuries is read aloud by Sawyer: "eight ribs broken in 14 places. Right knee, right ankle broken, left leg tibia broken, left ankle broken, right clavicle broken, right shoulder broken. Face, eye socket, jaw, mandible broken. Lung collapsed. Pierced from the rib bone, your liver – which sounds terrifying."
Get the inside scoop on the week's biggest movies and breaking news with our weekly email.
The actor admits that there was a time when he pondered, "What's my body going to look like? Am I just going to be a spine and a brain, like a science experiment?"
Renner tears up when Sawyer says, "I heard that you had, in sign language, you said to your family, 'I'm sorry.'"
"I chose to survive. That's not gonna kill me, no way," he says later. "I've lost a lot of flesh and bone in this experience, but I've been refuelled and refilled with love and titanium."
Renner's physical therapy sessions, which feature him utilizing a knee scooter, will also be shown in the interview. The actor has been using social media to keep his fans updated on his recovery, most recently sharing a video of himself utilizing an anti-gravity treadmill for the first time.
"When you look in the mirror, do you see a new face?" Sawyer asks, to which Renner replies, "No, I see a lucky man."
Please SHARE this heroic move by the real life Avenger with Family and Friends!