Off The Record
Ed Sheeran Revealed He Battled Mental Health Issues Before His Wife Welcomed Their Second Daughter
The couple have a two-year-old daughter named Lyra Antarctica and a baby girl named Jupiter, who was born in May of 2022.
After keeping the pregnancy a secret with his childhood girlfriend, the singer has opened up about the couple's struggles with "fear, depression, and anxiety" after learning that Cherry's newly discovered tumor could not be treated until after she gave birth.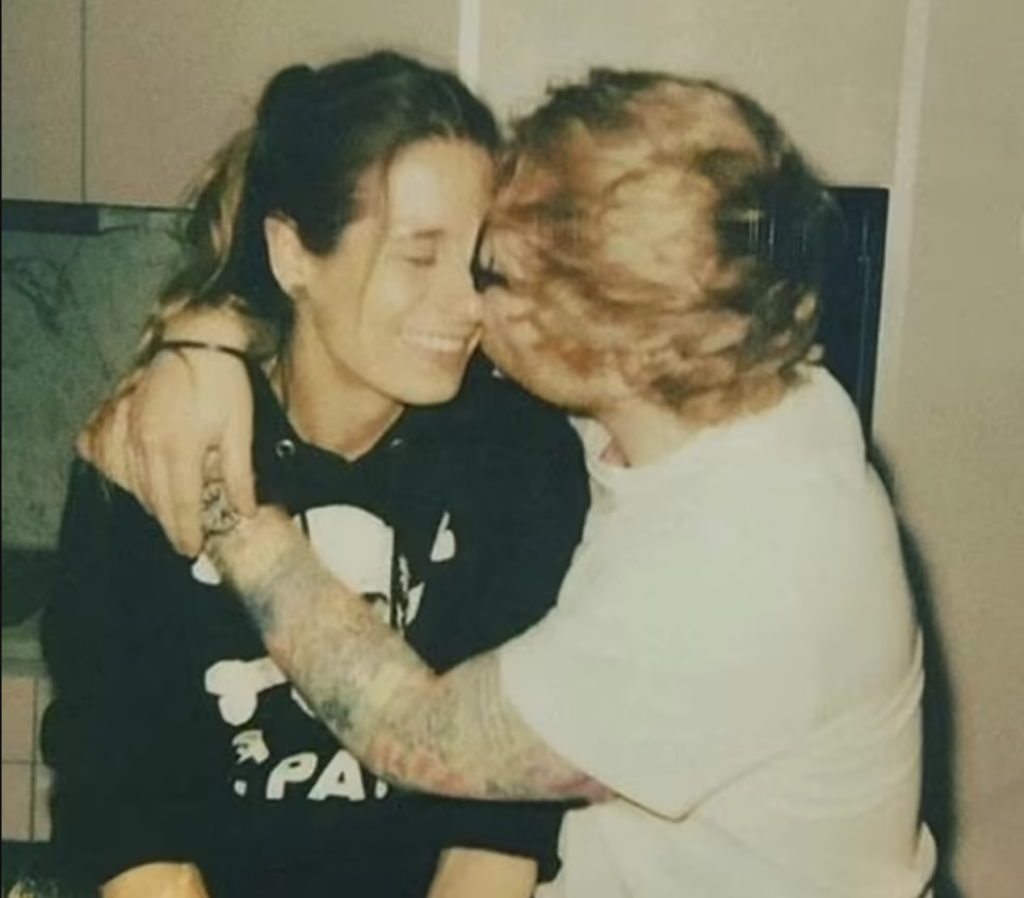 The 31-year-old singer revealed his mental health struggles in an Instagram post on Wednesday, citing stress over his wife's illness and the death of his best friend Jamal Edwards as contributing factors.
Tragically, in February of 2022, Jamal Edwards, a music producer and the son of Loose Women star Brenda Edwards, died of a heart arrest brought on by a combination of cocaine and alcohol.
Ed used the tweet to announce the release of his sixth studio album, Subtract, and to explain how the album was influenced by the traumas he had experienced in his own life.
He penned: 'I had been working on Subtract for a decade, trying to sculpt the perfect acoustic album, writing and recording hundreds of songs with a clear vision of what I thought it should be. 
'Then at the start of 2022, a series of events changed my life, my mental health, and ultimately the way I viewed music and art.
'Writing songs is my therapy. It helps me make sense of my feelings. I wrote without thought of what the songs would be, I just wrote whatever tumbled out. And in just over a week I replaced a decade's worth of work with my deepest darkest thoughts.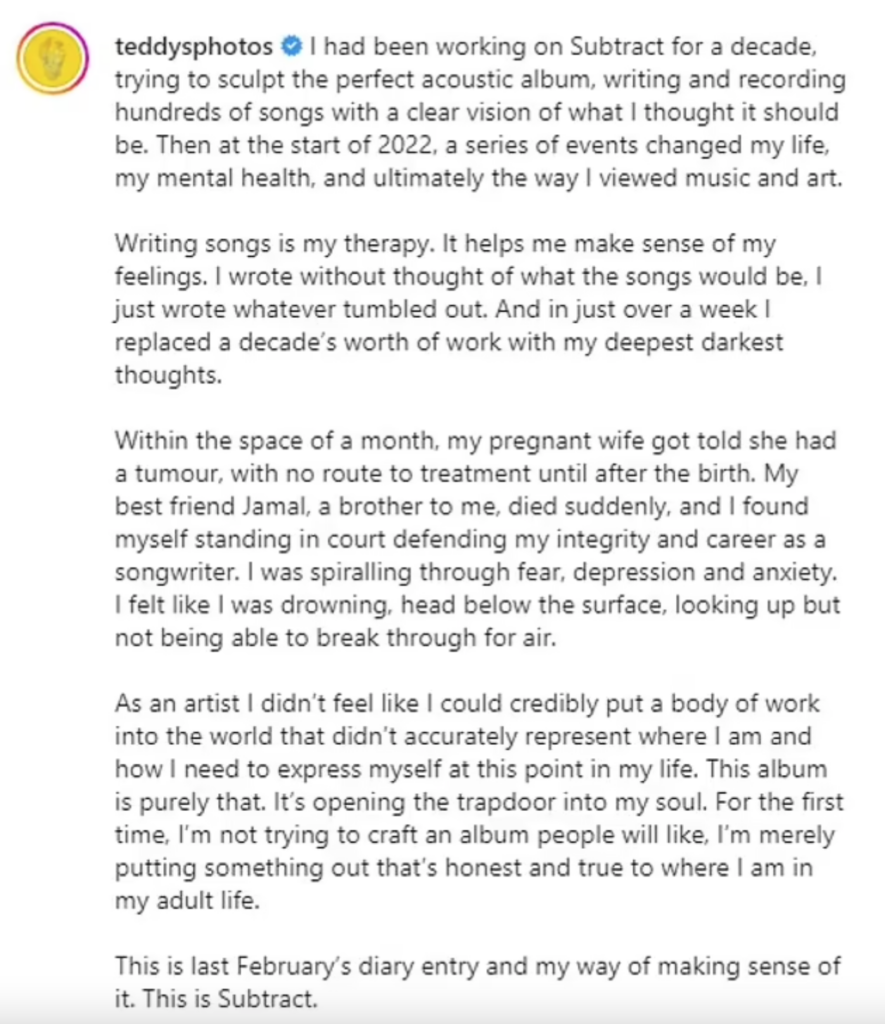 'Within the space of a month, my pregnant wife got told she had a tumour, with no route to treatment until after the birth. 
'My best friend Jamal, a brother to me, died suddenly, and I found myself standing in court defending my integrity and career as a songwriter. 
'I was spiralling through fear, depression and anxiety. I felt like I was drowning, head below the surface, looking up but not being able to break through for air.
'As an artist I didn't feel like I could credibly put a body of work into the world that didn't accurately represent where I am and how I need to express myself at this point in my life.'
Ed continued: 'This album is purely that. It's opening the trapdoor into my soul. For the first time, I'm not trying to craft an album people will like, I'm merely putting something out that's honest and true to where I am in my adult life.
'This is last February's diary entry and my way of making sense of it. This is Subtract.'
The musician has not given any new information about his wife's condition.
To learn more, MailOnline has reached out to Ed's team.
His decade-long mathematical series concludes with Minus, which follows Equals (2021), Divide (2017), Multiply (2014), and Plus (2011).
The father of two also shared some photos taken by the famous photographer Annie Leibovitz alongside the announcement of his new album.
He also posted a touching video of himself strolling along the beach while the song titles were displayed written in the sand. At one point, he climbed an unstable ladder, which collapsed on him.
On May 5th, you can get your hands on Subtract.
Ed also announced a limited tour of UK and European arenas for the next year, beginning in Manchester on March 23, 2023, and continuing on to London's The O2 arena for two nights (March 24 and 25), then on to Glasgow and Dublin for March 28 and 30, and finally ending up in Paris on April 2.
Ed returned to social media earlier this month after a long hiatus, and he said that he's been through some "turbulent things" in his personal life.
The singer acknowledged that he hasn't been as "engaged" with his fans online as he'd like, with many of his recent posts only advertising his music and tour dates.
Throughout his personal struggles, Ed didn't want to "pretend to be something he wasn't," he said in an Instagram video, but he promised to be more engaged with his fans in the coming weeks.
Ed explained: 'I realise I haven't been that engaged in my social media or fanbase over the last couple of years and the things that have been posted on this account might have got a bit boring, I'm sorry, that's my fault.
'The reason I'm making this video, just being totally honest, I've had some turbulent things happening in my personal life so I just didn't really feel like being online and pretending to be something I'm not when I wasn't really feeling like that.'
Ed then added: 'I know that sounds weird, but hence I'm making this video to say things are looking up and I'm back online.
'So you know, weird s**t is gonna start being posted here. I've made this video about 50 f***g times I'm not making another one!'
After finishing production on a new music video in November, Ed announced to his fans that he would be taking a hiatus from his social media accounts.
In the caption of a photo he posted on Instagram, he said, "Signing off now till 2023." The photo was taken on set and looked out over the beach. I'll see you in the new one. "With all my love, Ed x"
As part of his ongoing globe tour, Ed is now playing a string of performances in Australia and New Zealand.
On May of last year, he took to Instagram to share the joyous news that his wife and him had welcomed their daughter, Jupiter.
'We are both so in love with her, and over the moon to be a family of 4.'
Reports indicate that the couple told only immediate family members and friends about the pregnancy.
Having Lyra Antarctica was a blessing and a miracle for Ed, he had said before, because he had a hard time getting pregnant with Cherry.
After "trying to have a kid for a while," the singer revealed that she and her partner had scheduled prenatal visits to make sure everything was ok.
The odd name for their first child came to them during a trip to Antarctica in 2019, where they became pregnant naturally.
The BRIT Award winner quipped in October that he and Cherry were "in the trenches" raising their children.
To shed some more light on the situation, he added, "They've been on tour with me," on Good Morning America. 'My second daughter was born while we were on tour, but my first daughter comes to the shows, she's quite aware.'
'I think she assumes everyone else's dad sings as well, though,' Ed joked.
'It's every cliché that people say about parenting. You love both kids exactly the same but also completely differently. I'm really enjoying being a father of two,' he continued. 
Ed and Cherry met and fell in love as teenagers and grew up together in the same town.
They broke up in 2011, only to get back together five years later and get married in a tiny ceremony.
'Me and Cherry's actual wedding was a tiny affair, with hardly anyone there,' Ed said on Jessie Ware's Table Manners podcast.
'We did it at night, at a random day in the middle of January, in the middle of nowhere,' the Sing hitmaker added.
Ed's close buddy Jamal unexpectedly passed away three months before the birth of the couple's second child, and he was left devastated.
The star released a touching freestyle earlier this month in honor of his late friend, which was shot at Stamford Bridge, the home of Chelsea FC, a team that Jamal loved to watch play.
In an interview with BBC News, Ed praised his friend Jamal, saying that he couldn't have been as successful as he has without him.
'I really don't think I would have been given the opportunities that I was given had it not been for Jamal putting his arm around me,' he said.
He elaborated that he had been actively performing for several years in the acoustic scene before Jamal spotted him and invited him to appear on his YouTube channel.
Please SHARE this article with Family and Friends who also love Ed Sheeran!