Off The Record
Bride Killed In Crash Moments After Leaving Wedding Reception
Aric Hutchinson and Samantha Miller said "I do" and danced near the Atlantic shoreline as the start of their married lives.
It was too soon for the young newlyweds to say "till death do you part."
As Aric and Samantha were leaving their reception on Folly Beach, a small island off the coast of South Carolina, they were hit by a drunk driver, killing Samantha, 34.
There were two more people on the cart who were hurt.
The bride's mother, Lisa Miller said, "On the beginning of the golf cart ride, she said I wished this night could go on forever. The best night of her life."
Tragically, the newlyweds' happy exit from the reception under a shower of sparklers marked the end of a perfect day.
The young pair hopped into the back of the low speed vehicle (LSV), a street legal cart like a golf cart, and joined Aric's relatives Benjamin and Brogan Garrett, who were seated in the front.
When Jamie Lee Komoroski, 25, crashed the Toyota rental car she was driving into the rear of the LSV, they were only two blocks from their hotel.
Data from Komoroski's rental car, obtained by the Associated Press, showed that she was traveling 65 mph in a 25 mph zone immediately before the crash that occurred at 10 p.m. on Friday on Folly Beach.
Andrew Gilreath, head of the Safety Department, verified that the LSV was equipped with lights and so legal to operate after dark.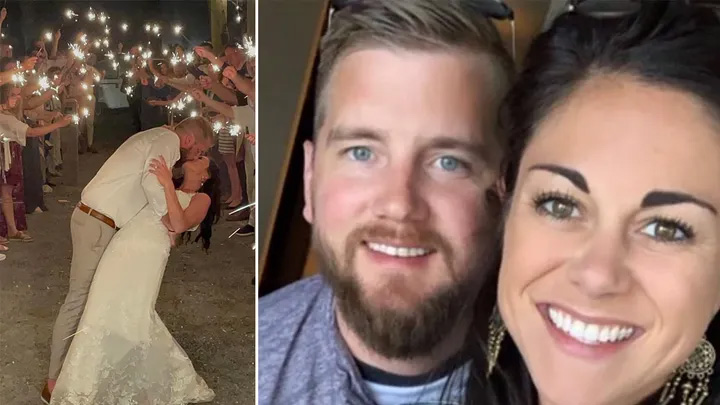 Hours earlier, the bride's mother had danced with her daughter to Bruno Mars's "Just the Way You Are," and she told local media, "I don't know what the distraction was, but she literally ran into my daughter going 65 miles an hour. Sammie and Aric were on the back of the golf cart and so she basically just whammed my child."
Samantha's sister, Mandi Jenkins, recalls hearing the sirens near their temporary residence.
"We were in our pajamas sitting on the balcony…and started to hear the sirens. And the sirens kept going," Jenkins said. Texting her sister with no response, they drove to the scene and what they saw was horrifying.
The impact threw the cart around 100 yards, and it rolled several times before coming to a rest.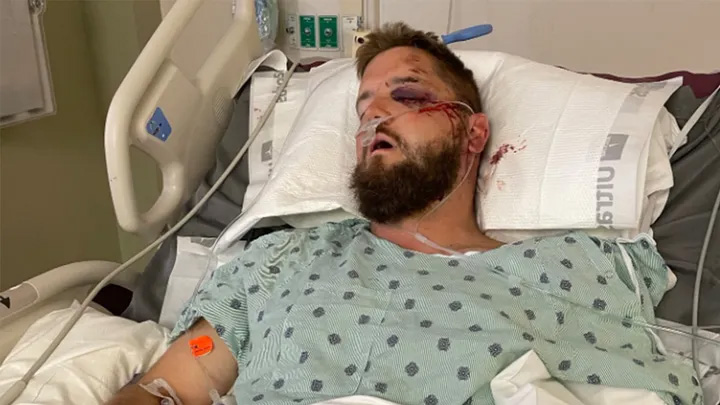 There were multiple victims scattered over the scene of the incident, which was characterized as "a large crash scene with a golf cart on its side and several victims laying among the wreckage."
When Lisa went to the hospital, she was told that her daughter had been transported there, but she later found out that Samantha's body had been recognized at the scene of the accident.
Samantha, who was still in her wedding dress, was confirmed dead at the scene, while Aric was hospitalized with shattered bones and brain trauma.
The condition of one other passenger is rated as critical and that of the other as stable.
According to police reports, Komoroski reeked of alcohol despite telling them she'd just had one beer and one tequila about an hour prior.
Officers said that she was "very unsteady" and required assistance to prevent her from falling.
Komoroski said she was a "eight" on a scale from one to ten for how impaired she was feeling, but when requested to perform a field sobriety test, "she strongly refused and became uncooperative."
She declined to give a breath sample to the police at the station, so they obtained a warrant for two vials of blood; the results of which are now pending.
Komoroski faces three counts of DUI-related fatal driving as well as one count of reckless vehicular murder. For each count of DUI, she faces a maximum of 25 years in jail.
Komoroski, who has a history of speeding-related charges, is under suicide watch after telling officers she wanted to die.
Aric's mom, Annette Hutchinson, is leading one of two GoFundMe efforts to pay for funeral and hospital expenses for her son, daughter-in-law, and grandson, Brogan.
Annette states, "Aric is in serious condition and has had one of two reconstruction surgeries, numerous broken bones, and a brain injury, he will have a long recovery. Ben and Brogan were also injured, Ben seriously." She adds, "I was handed Aric's wedding ring in a plastic bag at the hospital, five hours after Sam placed it on his finger and they read each other their vows. Aric has lost the love of his life."
The campaign's initial aim was $100,000, and as of Wednesday, it had already raised nearly $600,000.
Samantha's sister Mandi is behind the other GoFundMe for the family, which has raised approximately $37,000 of its $10,000 target so far.
Mandi says, "Samantha was fearless and that's exactly how she spent the last day of her life. She was so excited to start her life with Aric. She had no nerves or hesitation that day. You could feel the love on the beach."
It's unfortunate that what should have been the first day of the rest of their life ended the way it did.
We send our deepest condolences to Aric and their families on the loss of Samantha Miller.
Please SHARE this with Family and Friends to remind them to appreciate every single day!