Off The Record
Mcdonald's Forced To Take Down 'McCrispy' Advertising Billboard That Sparked Anger
A McDonald's 'McCrispy' billboard that was placed next to a road sign for a local crematorium has been removed after the company's owners were contacted.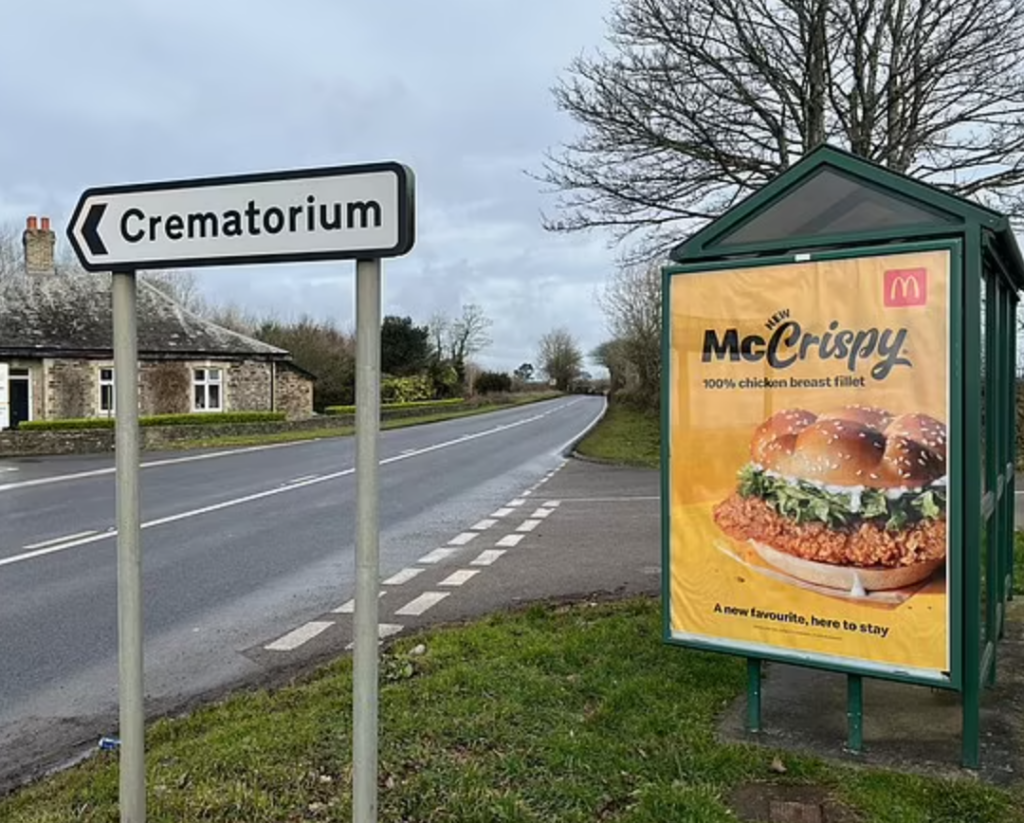 Some people found the advertisement on a bus stop on a road in Truro, Cornwall, near the Penmount Crematorium to be humorous, while others were less amused.
Drivers on the A39 had conflicting reactions to the billboard, which was brightly colored and featured the recognizable McCrispy.
The ad was placed beneath the sign that directed people to the cremation, and it was met with outrage from locals who found it distasteful.
'Although I can see the funny side, it is tasteless and I'm sure some grieving family members won't like to see it when visiting Penmount for the funeral and cremation of a loved one,' remarked one woman whose mother-in-law was cremated there last year.
Someone else observed, 'how funny it is will probably depend on how long ago you followed the crematorium sign wearing a black tie.'
But some thought the placement of the ad to be so funny that they "fell off the chair laughing."
Another person made the obvious pun about McDonal's famous tagline, "I'm lovin' it."
People also remarked that the phrase 'here to stay' is quite inappropriate when it comes to people being cremated, alongside 'McCrispy.'
McDonald's has since said that it will remove the sign due to the backlash it has received as a result of the campaign.
McDonald's has assured their customers that they are giving this issue their full attention.
When asked about the road sign at the bus stop, a company representative said, 'We were unaware of the road sign in the vicinity of this bus stop. However, in light of the concerns raised by CornwallLive, we have asked for our advertisement to be removed.'
The crematorium's operator and the bus stop's owner, Cornwall Council, declined to provide any further comment.
There have been rumors circulating that the McCrispy billboard would soon be replaced by a promotion for Burger King's flame-grilled Whopper. That certainly won't solve the anger….
What do you think about this? Is it good marketing or going too far? Please SHARE this article with your opinion with Family and Friends on Social Media!