Off The Record
The Tragic Story Of Mary Ann Bevan, The So-Called 'Ugliest Woman In The World'
Mary Ann Bevan, a lovely English woman, was compelled to work in early 20th-century sideshows and circuses when she was diagnosed with acromegaly.
Mary Ann Bevan, often called the "Ugliest Woman in the World," often performed in carnivals and other such events to make ends meet and provide for her family.
Mary Ann Bevan didn't always have a reputation for being "ugly."
She was born on the suburbs of London in the late 19th century, and at the time, she looked and was treated like any other young woman.
After reaching adulthood and having multiple children, everything changed when she was diagnosed with a rare disfiguring condition.
After only a few short years, Bevan's face, hands, and feet were deformed beyond recognition, leaving her with no choice but to rely on her appearance to make ends meet.
Mary Ann Bevan, one of the most tragic figures of the once-thriving sideshow business, tells her story of how she became the Ugliest Woman in the World.
Mary Ann Bevan's Early Life
Mary Ann Webster was born to a large family on the outskirts of London on December 20th, 1874.
She grew up just like her siblings, studied to become a nurse in 1894, and then married a farmer named Thomas Bevan from Kent in 1903.
The Bevans started their married life off right by having two healthy sons and two healthy daughters.
After Thomas's untimely death in 1914, Mary was left to provide for their four young children on a meager salary.
After the death of her spouse, she began exhibiting symptoms of acromegaly, a condition characterized by an excess of growth hormone production by the pituitary glands.
Although uncommon, acromegaly can now be effectively treated if caught in its early stages.
Bevan's looks began to radically alter, but there was nothing that could be done about it given the medical restrictions of the early 20th century.
Mary Ann Bevan Deals With Acromegaly Head-On
Sleep apnea, heart disease, and kidney problems are just some of the serious complications that can arise from acromegaly.
Bevan's disease caused her normally sized hands and feet to balloon out of proportion, her forehead and lower jaw to protrude, and her nose to enlarge noticeably.
Bevan decided to capitalize on her appearance and entered an "Ugliest Woman" contest which she won. pic.twitter.com/8i4Vp3IefL

— Marina Amaral (@marinamaral2) December 9, 2021
She had to take on a variety of odd occupations to support her family as her appearance changed and she found it difficult to land steady employment.
The uncommon disease irreversibly altered her appearance.
A former fairground worker named Bevan alleged that a farmer she had worked for years prior had informed her that "all [she] was fit for [was] the ugly woman competition."
Bevan took the farmer's advice to heart, and shortly thereafter joined and won the "Homeliest Woman" contest, beating out 250 other contestants.
Since her doctor had warned her that her condition would only worsen, she decided to take advantage of the situation for the benefit of her children after her success attracted the attention of sideshow proprietors.
Quickly, she found steady employment performing at fairs across the British Isles.
In 1920, Bevan answered an advertisement in a London newspaper reading "Wanted: Ugliest woman. Nothing repulsive, maimed or disfigured. Good pay guaranteed, and long engagement for successful applicant. Send recent photograph."
The ad had been placed by a British agent for Barnum and Bailey's circus, who found that she had "what may sound like a paradox, the face of an ugly woman that was not unpleasant."
Mary Ann Bevan's Sideshow Success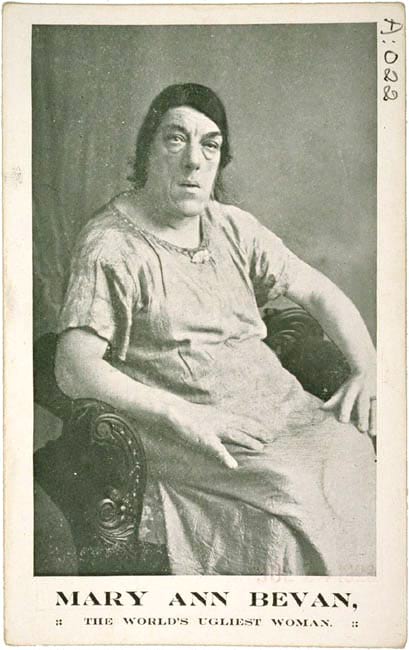 When Bevan sold postcards like these at fairs, she made about $12 per card.
Bevan was invited to join the sideshow at Coney Island's Dreamland amusement park, which at the time was one of the most popular destinations for sideshow artists, after sending the agency a photo he had taken specifically for the occasion.
The idea for the show came from Senator William H. Reynolds and sideshow operator Samuel W. Gumpertz, who went on to collaborate with Harry Houdini.
Mary Ann bevan took up the title of being the world ugliest woman to feed her 4 children #Thread pic.twitter.com/sRs9x19pO0

— Umair (@Dr_MianUmair1) November 20, 2021
Along with the likes of Lionel the Lion-Faced Man, Zip the "Pinhead," and Jean Carroll the Tattooed Lady, she was a featured attraction in many carnivals and sideshows.
Visitors to Dreamland were free to stare at her 154-pound physique, 5-foot-7 height, size 11 feet, and size 25 hands.
Bevan took the degrading treatment in stride. "Smiling mechanically, she offered picture postcards of herself for sale," thus securing sufficient money for herself and for her children'.
Mary Ann Bevan's popularity only grew with the passage of time; by the 1930s, she was a featured act in the world-famous Ringling Bros. and Barnum & Bailey circus.
In just two years of performing in New York, she made £20,000, which is roughly comparable to $1.6 million in 2022. This allowed her to achieve her aim of providing for her children.
Mary Ann Bevan's Final Days
Until her death in 1933, Bevan was a staple at the Dreamland sideshow in Coney Island.
Bevan made friends among the sideshow scene and outside of it, and he even found time for love. She fell in love with Andrew, the giraffe keeper, while playing at Madison Square Garden in 1929.
She even agreed to get pampered at a New York City salon, where she received a manicure and massage in addition to having her hair straightened and her face painted.
Some people cruelly maintained that "the rouge and powder and the rest were as out of place on Mary Ann's countenance as lace curtains on the portholes of a dreadnought." Mary Ann herself, however, upon seeing her reflection, simply said, "I guess I'll be getting back to work."
Bevan spent the rest of her life working on Coney Island until her death on December 26, 1933.
She was 59 years old. Her body was flown back to England for the burial, and she was laid to rest in Brockley and Ladywell Cemetery in the city's Southeast.
Now Trending:
Mary Ann Bevan was mostly forgotten by the general public until her likeness was utilized mockingly on a Hallmark card in the early 2000s.
After objections were raised over subjecting her to further humiliation, the card was discontinued.
Please SHARE this brave woman with Family and Friends!