Off The Record
Lourdes Leon, Daughter of Pop Icon Madonna Looks Exactly Like Her Famous Mom
After her disastrous turn at the Marc Jacobs show, Lourdes Leon, 26, looked stunning in red at the Luis De Javier show at New York Fashion Week. The model wore a horned hat as a symbol of her inner devil.
To be honest, she looks very much alike her mother in the younger years!
Grabbing the Bull by the Horns
The hemline of the model's dress was extremely short, ending well below the bottom of her bum. It had a corseted bodice with two little horns on the chest and crisscross lace from yesteryear on the back. Leon wore red knee-high stockings and red and black ombre shoes with the minidress.
Fiery On The Runway
Leon had brightly colored shoes that complemented her horned cap. Her fiery look was finished off with glossy red lipstick and long, straight black hair that hit just below the nape of her neck.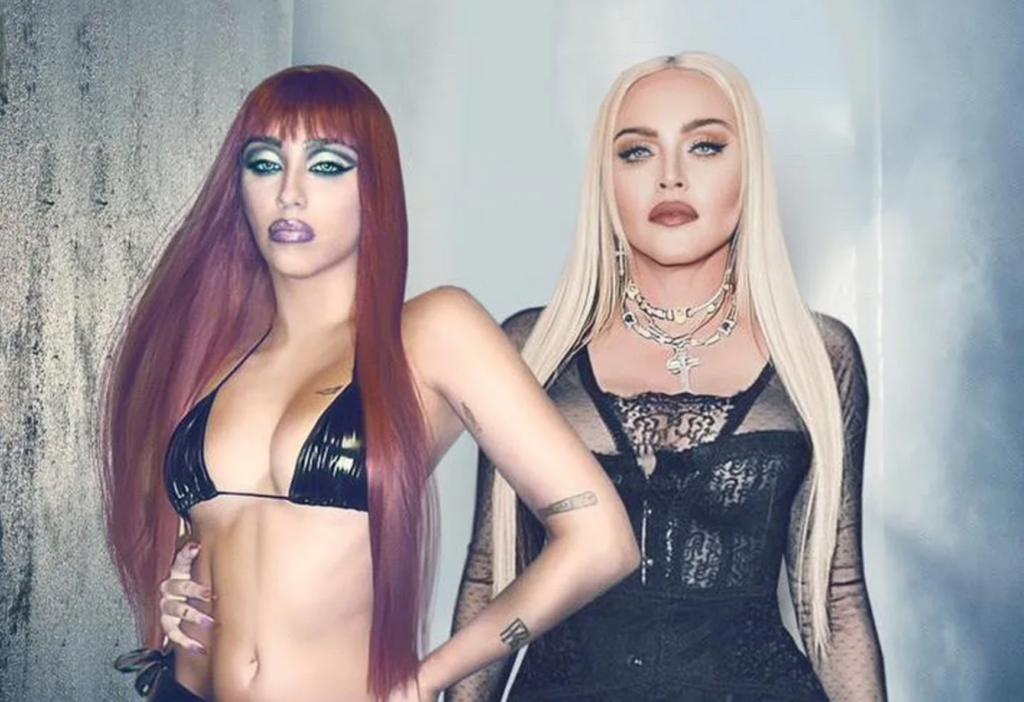 Getting Criticism For Her Stroll
Fans on the internet criticized her lack of presence during her runway walk.
i'm sorry but lourdes leon has the goofiest catwalk out of all the nepo models. she's pretty but she cannot walk!!

— june (@CHERRYLE0PARD) December 29, 2022
Fans have never forgotten to remind Leon that they think she is one of the worst connected models ever.
Lourdes Leon looks stunning all the time but her walk is just not good. A shame really!

— cautiously optimistic Mets fan (@asrsky09) October 28, 2021
Red = Lola
Leon has already established twice this month that red is her favorite color. For the 2023 Grammys, she also sported an all-red getup. Her mother Madonna would have approved of the cone bra she wore above a V-neck shirt that she wore to the Grammys.
Glamorous Grammy Awards
The straps of the column dress were narrow, and it was bedecked with sparkling crystals. Leon sported her trademark center part and silky straight hairstyle, amplifying the dramatic effect with her makeup. She wore a silver necklace and ombre red lip color.
Fashionable Bull-Style
From horned corsets and caps to gowns with bull designs, Luis De Javier's SS23 collection was all about diabolical ideas. In last year's British Vogue shoot, Beyoncé donned a black Toro corset made especially for her and a pair of short heels to match.
Exhibit de Mode de Luis De Javier
Other egregiously horned bull pieces, including Julia Fox's denim dress, were on display during the NYFW presentation by Luis de Javier. The corset bodice only went up to the middle of her bust, but the chest horns reached all the way to the top of her head.
Julia Fox Stuns In Denim
Fox wore a denim column dress with a lengthy train. She accessorized the dress like she usually does, with black leather gloves and a pair of denim boots. Fox, unlike her usual self, went without elaborate hair or makeup because her dress did all the talking.
Difference In Style
While Leon and Fox's dresses may have been from the same collection, they were very different in terms of cut and design. While Leon wore a modest red minidress, Fox opted for a dramatic floor-length gown. The former actress' horns were large and dramatic, whereas those of the younger model were modest.
An Awkward Moment
The first day of New York Fashion Week didn't go well for Leon. Even though she arrived on time, which is considered late in the fashion industry, she was unable to see the Marc Jacobs presentation.
The Infamous Marc Jacobs Snub
As the celebrity arrived at the Park Avenue Armory at 6:00 p.m. on February 2 to perform, fans and paparazzi waited outside the building, pleading with her to enter. Sadly, Marc Jacobs, the company's Creative Director and creator, left explicit instructions to lock the entrance as soon as the show began at 6:00 p.m.
Y2K Fashion In Style
The model wore an off-the-shoulder blazer with a long denim skirt and white boots to celebrate the new millennium. She wore a shoulder purse and wore bangs on her normally straight black hair.
A Ruptured Romance?
As Leon has a lengthy history with the American design brand, this scandal came as a shock to admirers. In 2021, she became one of the company's most prominent models, and her mother had previously done the same.
Following Her Passions
Leon previously told the haters that label her as a "nepotism baby" that she is smarter than they give her credit for. The 26-year-old has been quoted in Today as saying she is proud of herself for earning her achievements.
Back To Music
Her debut track was made available on all major streaming services last year. While it was not a commercial success,
Going For What She Loves
Leon has opted to pursue singing as a hobby since last year, although modeling remains her first love and principal occupation. She has worked with notable companies including Burberry and Yves Saint Laurent in addition to Luis de Javier's presentation this year.
High Fashion Style
Despite the haters, Leon is focused on expanding her reputation beyond being known as Madonna's kid.
Making A Name For Herself
The model's increased public participation in the entertainment industry signals that she is well on her road to superstardom.
If you think she looks like Madonna in the younger years, please SHARE this post with Family and Friends!