Self-Improvement
Julia Roberts Made A Serious Threat To All Beauty Companies By Posting This Photo And Writing…
"Perfection is a disease of a nation. We overlay our faces with tons of make-up. We get botoxs and even starve ourselves to become that perfect size. We try to fix something but you can't fix what you can't see. It's the soul that needs the surgery. It's time that we take a stand. How can you expect someone else to love you if you don't love yourself? You have to be happy with yourself. It doesn't matter what you look like on the outside, it's what's on the inside that counts. Today, I want to put up a makeup-free photo. I know I have wrinkles on my skin but today I want you to see beyond that. I want to embrace the real me and I want you to embrace who you are, the way you are, and love yourself just the way you are." – Julia Roberts.
She posted this on her Facebook and Instagram profile (both deleted now) telling us how twisted and extreme our beauty parameters have become. Luckily, we were able to recover a screenshot of the post.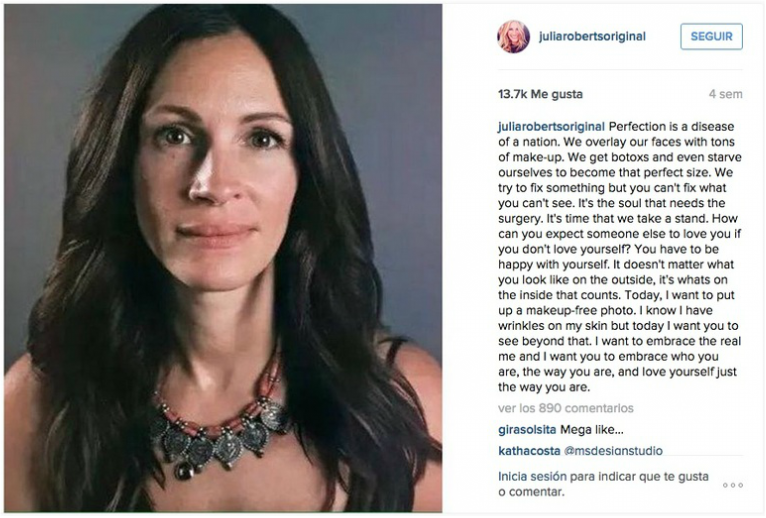 We are way too focused on looks. Way too god damn much! It sure is a must to take care of our bodies, exercise, eat healthy nutritious food, but fill ourselves up with botox, undergo surgeries to fix couple of wrinkles? It doesn't make sense.
Judging people through the filter of beauty is so wrong, it's even disgusting!
Instead of celebrating the privilege of being alive, getting old and cherishing the unique creation that we are, we damage ourselves with surgeries and short term botox and fillers.
No matter how you look, if your soul shines you don't need a needle near you.
Please SHARE this post with your friends on Facebook.