Off The Record
Faithless Lead Singer Maxi Jazz Dies Aged 65 After Battling Health Problems
The lead singer of the British dance band Faithless, Maxi Jazz, passed away at the age of 65.
Maxwell Fraser, a musician and DJ by trade, was an integral part of the band responsible for the dance floor staple "Insomnia."
Sister Bliss, his former bandmate, said he passed away "peacefully in his sleep" at his home in south London on a Friday night.
"Sending love to all of you who shared our musical journey. Look after each other y'hear," she said on Twitter.
We Come 1, released by Faithless in 2001, and Insomnia, released by Faithless in 1996, were both top-three dance hits.
Jazz's 2017 tourmates, the reggae band UB40, paid tribute to the singer by singing the chorus from the Insomnia single: "A lovely guy, again who has gone too soon, but finally Maxi you can get some sleep."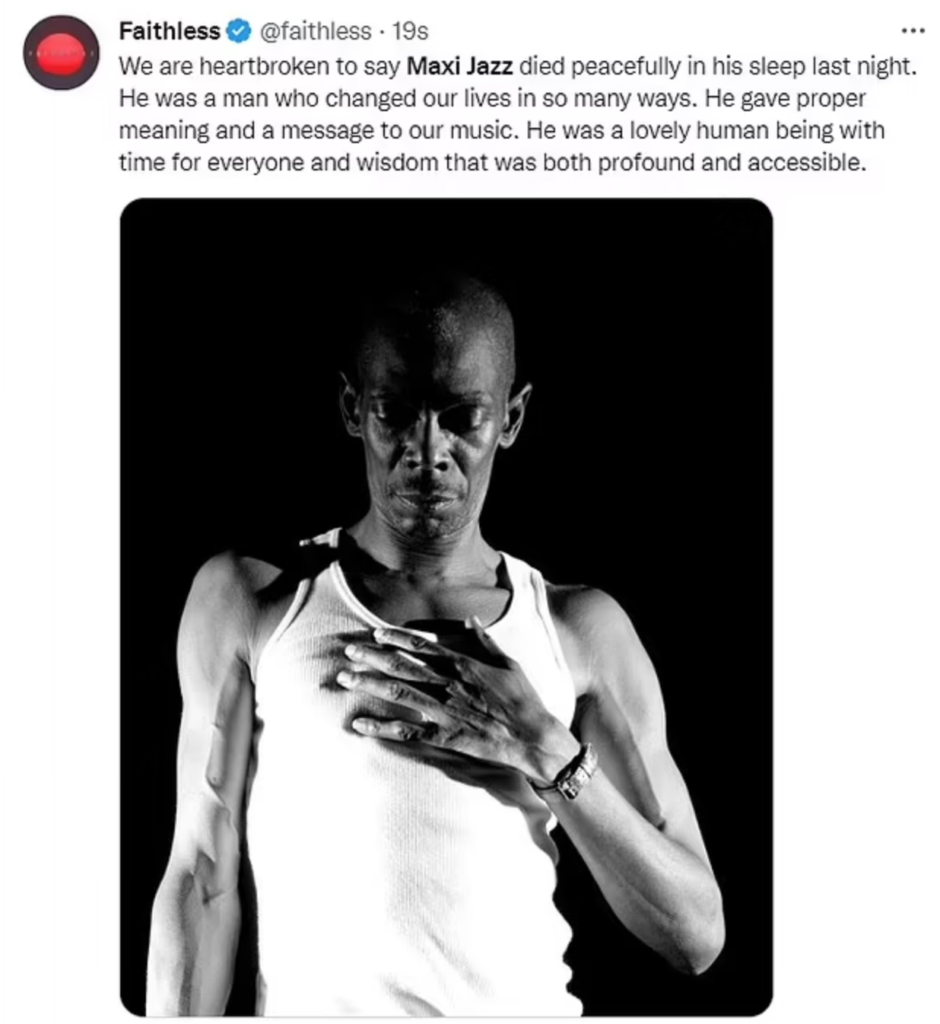 A statement from Jazz's ex-bandmates, posted to his Instagram and signed by all of them, reads as follows: "He was a man who changed our lives in so many ways. He gave proper meaning and message to our music.
"He was also a lovely human being with time for everyone and a wisdom that was both profound and accessible. It was an honour and, of course, a true pleasure to work with him.
"He was a brilliant lyricist, a DJ, a Buddhist, a magnificent stage presence, car lover, endless talker, beautiful person, moral compass and genius."
Formed in 1995, Faithless were an early forerunner in the genre of "stadium dance music." During their career, they received two Brit Award nominations for Best UK Dance Act (1999, 2002).
After disbanding in 2011, they reunited amid the Covid epidemic to record a new studio album. However, Jazz didn't join them because he already had a band, Maxi Jazz and the E-Type Boys.
Jazz started writing music for the guitar band in 2013 while Faithless was on hiatus, ushering in a new musical direction for him.
They say their music has "melodic funk and blues mixed with reggae beats, dub baselines [and] Jamaican melodies" on their website.
Jazz's love for Crystal Palace FC extended to the point that he joined the board of directors as an associate director in 2012.
The Premier League squad announced that on Boxing Day, they will walk out to Faithless as a tribute to the "legendary musician" who was a frequent at Selhurst Park.
Sending prayers to the family in this difficult time!