Off The Record
Baby Girl Placed In A Plastic Bag And Abandoned In The Woods Found Alive
Strange noises were reported by three adolescent girls as they were strolling in the woods near their house in Forsyth County.
They couldn't place the source of the strange noises, which sounded like a baby wailing.
The next thing they knew, they were exchanging glances as if to ask, "Is there any chance a baby is out here in the middle of the woods?"
Despite the fact that it sounded completely out of the ordinary, they decided to call their father for assistance. That turned out to be the wisest choice they could have made.
A newborn baby was found alive in a plastic bag in the woods outside Atlanta, Georgia. Police are still searching for the mother. They say the girl, currently named Baby India, is in good health. pic.twitter.com/f3TboZ2G9U

— AJ+ (@ajplus) June 26, 2019
Their father, Alan Ragatz, was taken aback when he arrived. He discovered a newborn infant abandoned in a plastic bag, with its umbilical cord still attached.
The baby girl had just been born a few hours when Alan and his daughters saved her life.
In Alan's own words, one of his daughters, Kayla, recalled that fateful day thusly: "(We) grabbed our flashlights and we're driving around and we're, like, 'That doesn't sound like an animal.'"
Alan remembered saying, "That's got to be impossible," when they informed him they thought they heard a baby crying, "It's a baby raccoon, deer or something."
But his daughters were right, and praise be to God, they were swift to intervene and save the life of the infant.
"We went down, pulled it up. There was a poor little baby wrapped in a plastic bag, and we called 911," Alan added. "She was alive. She was crying, so we figured that was a good sign. Could have been worse. The credit goes to my girls. They were the ones sticking with it."
When help was needed, the authorities were notified and the infant was transported to a secure location.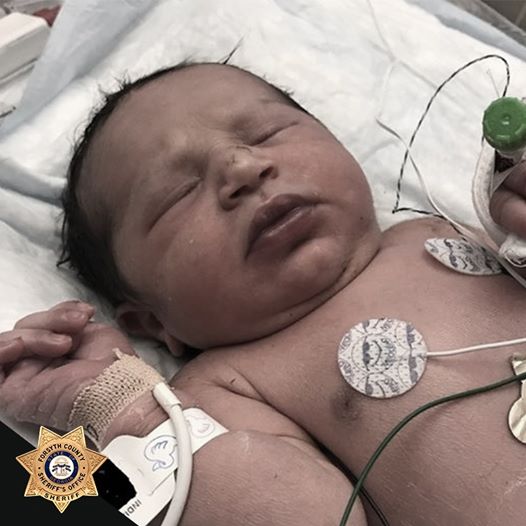 "It is, without doubt, divine intervention that this child was found. If it wasn't for these citizens, we would be having a different conversation," said Sheriff Ron Freeman and thanked the Ragatz family for what they did. 
It was truly a miracle and "an act of God" that the baby, who they later called India, survived the ordeal of being discarded by her mother without suffering any permanent harm.
India's tale went viral, and soon many people wanted to give her a forever home. In fact, there were over a thousand people who were eager to give her the family she never had.
The head of the state's Division of Family & Children Services, Tom Rawlings, has said, "We've had, literally, thousands of people across the country and other parts of North America come forward wanting to adopt Baby India."
Now that she's met her adoptive parents, Princess India is doing wonderfully. "She's gaining weight and smiling a lot. She's an easy baby who loves to be held and sung to, and she's overall thriving now," Rawlings added.
Now Trending:
At this time, our collective thoughts and prayers are with the little girl who refused to give up the fight for her life and who did everything in her power to get her cries for assistance heard.
1K people ask to adopt baby left in plastic bag https://t.co/2V9GfgQp5r pic.twitter.com/YL4Biza0mo

— FOX 4 NEWS (@FOX4) June 28, 2019
We hope and pray for a bright future for little India!
Please SHARE this article with Family and Friends!